Burgers With Fresh Rosemary, Thyme and Oregano
Hamburgers are usually on buns with cheese, lettuce, tomato, and condiments but you can also just have a plain burger and you won't miss the bun when you make it something special by mixing in onions or garlic and herbs as you form the patties before you cook it. These burgers are great served with a green salad or Cucumber Salad With Mushrooms and Radishes (July/2014), Fruit and Nut Rice Salad (June/2011) or Wild and Brown Rice Stuffing (Aug/2012) and steamed broccoli.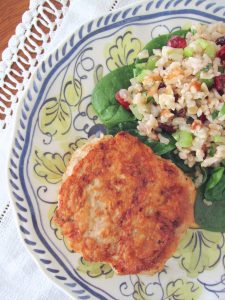 Burgers With Fresh Rosemary, Thyme and Oregano
Ingredients
1 pound ground turkey, lamb or beef
1/4 cup grated red onion (use a box grater) or 2 cloves of garlic
1 egg
1 1/2 teaspoons chopped fresh rosemary
1 1/2 teaspoon chopped fresh oregano
1 1/2 teaspoon fresh thyme leaves
1 1/2 teaspoons salt
1/4 teaspoon pepper
2 tablespoons avocado oil
Instructions
Mix all ingredients in a bowl and form into burgers. Heat a skillet to medium high. Add oil. When oil is hot, slip the burgers into the pan. Brown each side for 3 minutes, cover the skillet and turn the heat down to medium low. Let steam for 10 minutes (you should still hear some sizzling). Turn heat off and let rest 5 minutes to reabsorb juices.