Gluten-Free Coconut Sweet Potato and Whole Grain Chia Pancakes
Gluten-Free Sweet Potato Pancakes
Ingredients
1 cup buckwheat flour*
1/2 cup sorghum flour*
2 tablespoons coconut flour
1 tablespoon baking powder
1 teaspoon salt
1/2 teaspoon cinnamon
1/2 teaspoon nutmeg
1/2 cup coconut sugar
1 1/4 cups cooked sweet potato or yam
1 teaspoon vanilla
1 14 ounce can coconut milk (if separated, melt and whisk together before adding)
1 cup rice milk
4 tablespoons light olive** oil or melted butter
2 eggs
Instructions
Pre-heat griddle or large heavy skillet (scan pans works very well). Place all dry ingredients in a mixing bowl, whisk together and set aside. Place sweet potato, vanilla, coconut and rice milk, and butter in food processor and process 5 seconds. Pour sweet potato over flour mixture and add eggs. Whisk together. Spoon on to hot pan and let pancakes cook about 4 minutes on each side until nice brown color.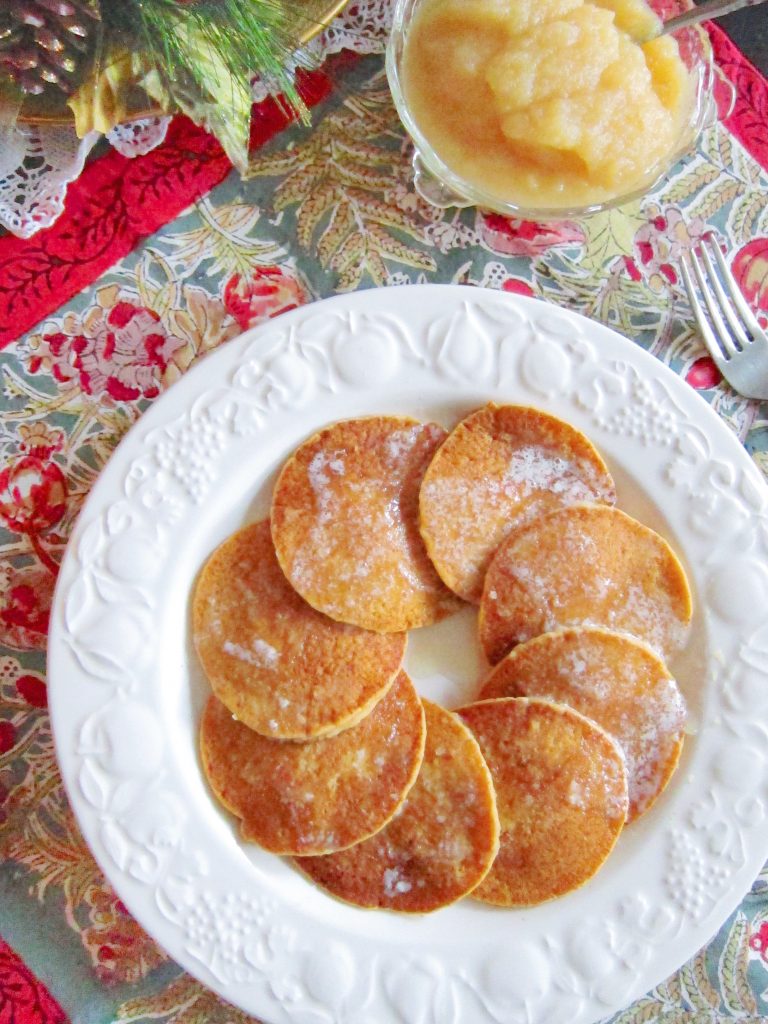 These pancakes are very soft from the sweet potato and because they are gluten free. Serve with applesauce or maple syrup and butter. Store leftovers in the refrigerator. They can be reheated.
*You can experiment with other mixtures of flours like brown rice flour, gluten free oat flour, corn flour and millet flour.
**Trader Joe's Trader Grotto's Sicilian (cold pressed) Extra Virgin Olive Oil is a blend of three olives from Sicily, packaged in Italy in a beautiful bottle. It's light and delicious. Store it in the dark and use up within a month.
Don't have the heat too high. The batter is thick and moist and you want the pancakes to be able to cook for a long time without burning. My stove has settings from 1-8 and I set it at 4 and let the pan get very hot.
Whole Grain, Coconut, and Chia Pancakes
Ingredients
1 cup buckwheat flour
1 cup whole wheat flour
1 cup corn flour
3 tablespoons chia seeds
3 teaspoons baking powder
1 teaspoons baking soda
1 teaspoon salt
1 teaspoon vanilla
1 14 ounce can coconut milk (if separated, melt and whisk together before adding)
2 cups water
3 tablespoons oil or melted butter
Instructions
Whisk all ingredients together just until blended. Do not over mix or pancakes will be doughy. Pour onto hot skillet. Turn over when bubbles appear. Both sides should be lightly browned and the pancakes should be light and fluffy. Top with butter and maple syrup or your favorite pancake topping.