Countries have many versions of moussaka. In Lebanon it's eggplants, tomatoes and chickpeas. The Roman version has cabbage. Some countries use potatoes instead of eggplant and the top layer is a custard. In Turkey moussaka is sautéed green peppers, tomatoes and onions and minced meat, or zucchini carrots and potatoes, and it's served in the style of a casserole and eaten warm or at room temperature. In Arabic countries the same recipe is a cold dish. In Greece moussaka is eggplant, meat and tomatoes that are layered and topped with a béchamel sauce and served hot like this recipe. Plants form compounds to protect themselves from oxidative stress and when we ingest the plants, we absorb these compounds and they protect us. Eggplants have a unique phytonutrient called nasunin that is s a free radical scavenger that has been shown to protect brain cell membranes. Eggplants are rich in phenolic antioxidant compounds. It's predominant phonemic compound is cholrogenic acid. Its antioxidant benefits include anti-mutagenic, anti-microbial, anti-LDL and anti-viral activities which makes eggplant helpful in fighting against both cancer and heart disease.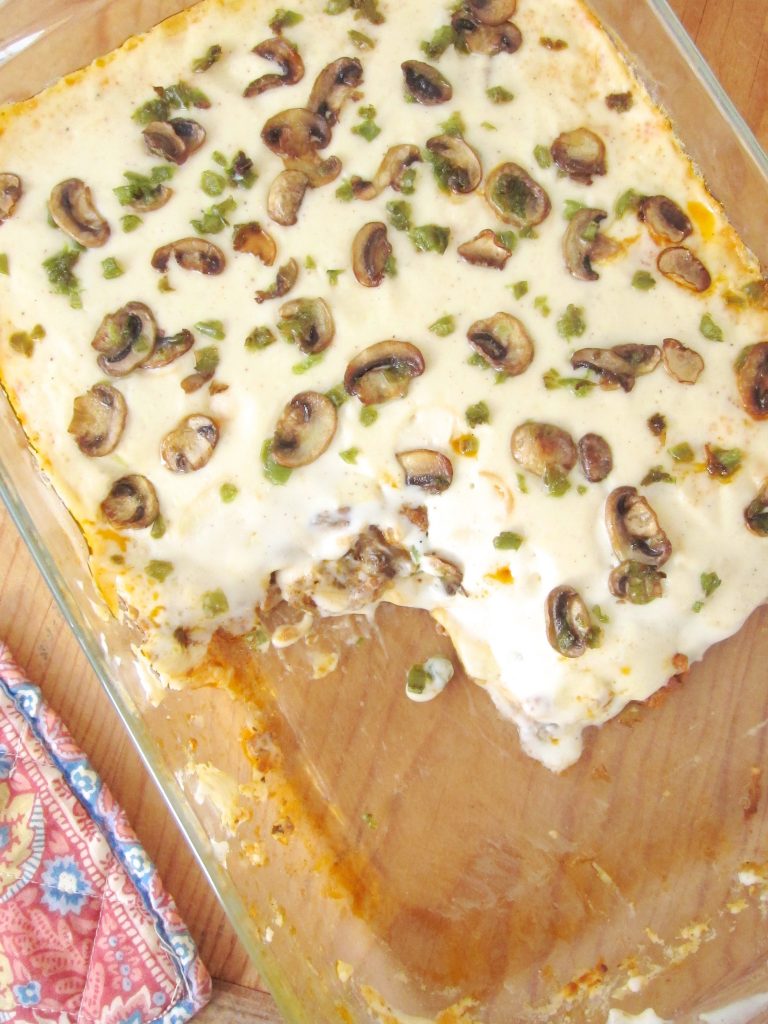 Moussaka
Eggplant Layer
Ingredients
1 1/2 pounds eggplant
salt
2 tablespoon butter and 1 tablespoon avocado oil or light olive oil*
Instructions
Peel and slice eggplant into 1/4 inch slices and place in a colander. Sprinkle with salt, toss and sprinkle again. Let stand for 30 minutes or until several tablespoons of liquid has drained. Rinse and pat dry with paper towels. Melt butter with olive oil. Lay eggplant on a cookie sheet and brush with the melted butter mixture. Broil 10 minutes or until lightly browned, keeping an eye on it so it doesn't burn. Turn over and broil another 10 minutes. Transfer eggplant to a 9 by 13 inch pyrex casserole.
Meat Layer
Ingredients
1 pound lean ground beef (or half beef and half lamb)
1 cup onion, chopped
1/4 cup green pepper, chopped
1/2 cup mushrooms
1 garlic clove, minced
2 tablespoons butter (grass fed – Kerrygold brand)
1 teaspoon salt
1/2 teaspoon pepper
1/4 teaspoon cinnamon
1 1/2 teaspoon oregano
8 ounces tomato sauce
Instructions
Cook meat, breaking into small pieces, until pink is gone and set aside. Saute onion, green pepper, mushrooms and garlic in butter for ten minutes. Add salt, pepper, cinnamon, oregano, tomato sauce and meat. Cover and simmer 45 minutes. Spoon evenly over eggplant.
Mornay Sauce Layer
Ingredients
4 tablespoons butter (grass fed – Kerrygold brand)
4 tablespoons flour
2 cups milk (grass fed organic)
1 cup half and half
1/2 cup Parmigiana Reggiano cheese (24 month aged parmesan)
1/4 teaspoon nutmeg
1 teaspoon salt
Instructions
Melt butter and add flour and cook one minute. Add milk and half and half and stir until it thickens. Add cheese, nutmeg and 1 teaspoon salt. Pour over meat mixture
Topping
Ingredients
1/2 cup mushrooms, sliced
1/4 cup green pepper, finely diced
1 tablespoon avocado oil or olive oil
Instructions
Saute mushrooms and green pepper in olive oil for 15 minutes or until mushrooms begin to brown. Sprinkle on top of mornay sauce. Bake moussaka in a 325 degree oven for 35 minutes. Let rest for 10 minutes.
Serve with brown rice (recipe below), a salad or Summer Vegetable Tian Au Gratin (September/2014)
Easy Brown Rice
To cook rice, fill a saucepan with a tight fitting lid three quarters full with water and bring to a boil. Rinse the desired amount of rice with water using a sieve. Once the water is boiling, add the rice. Let the rice boil uncovered for 35 minutes, then remove from heat and drain all the water out. Put the lid on the saucepan and let stand for 5 to 10 minutes. Remove lid, sprinkle the rice with a half teaspoon of salt and fluff the rice with a fork.