Clay Pot Vegetable Beef Stew
My grandmother made the best beef soup. She started the recipe by cooking beef bones, but it was the V8 juice and the cumin that gave it the flavor we loved. I turned her recipe into a stew by filling it with fresh vegetables including a lot of cabbage. Vegetables lose nutrients as they are cooked longer so I put this stew in a clay pot.
Before we had commercialized cookware, the ancient world relied upon dishes and pots made out of their soil and clay. Clay cooking pots originated in Germany and were first introduced to the international market in 1967. Millions of German Römertopf and SchlemmerToph clay bakers have been sold throughout the world.
The reason the modern world still uses clay pots is because of their unique characteristics that make food better tasting and more nutritious. The clay material has pores and when it is soaked prior to putting in the oven, it absorbs water that it will later release as steam. Food cooked in clay pots lose little to no moisture and keeps its flavor because it's surrounded by steam, allowing it to braise in its own juices. It has has more nutrition because clay pots seal all the nutrients inside the pot by locking in the steam.
The clay bakers come in 3 sizes. During a purchase of a larger clay pot a few years ago, I was helped by a salesperson who was German and raised on food cooked in clay pots. He said his mother taught him that the trick to doing it right was to use the smallest size that would fit what you were cooking, which meant you had to fill the bottom of the pot, like surrounding the meat with vegetables, or have a smaller size clay pot in addition to a larger one, so there wouldn't be empty space at the bottom of the pot.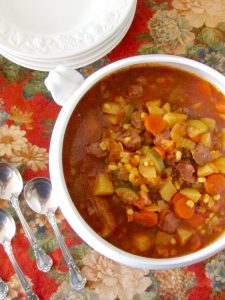 Clay Pot Vegetable Beef Stew
Ingredients
1 pound sirloin tip roast, cut into 1 1/2 inch pieces, or stew meat
1 cup chopped onion
1 tablespoon olive or avocado oil
1 14.5 ounce can Swanson's Beef Broth
2 cups V8 juice
2 cups water
2 celery ribs, sliced
4 small carrots, sliced (use less for low carb diets)
1 1/2 cups cabbage, diced
1 cup fresh corn
1 zucchini, diced
1 russet potato (or turnip for low carb diets)
2 teaspoons cumin
2 teaspoon salt
1/2 teaspoon pepper
Instructions
Soak the top of a medium sized clay pot* lid in water. Heat skillet to medium high and add oil. Brown meat and onions. Put meat mixture in the clay pot and add the broth, V8 juice and remaining water. Cover with soaked lid and set in a cold oven. Set temperature to 225 degrees and cook for 2 hours. Remove from oven, add the vegetables and spices and return to oven and cook another 1 to 1 1/2 hours, or until vegetables are tender.
*You can also use a dutch oven and brown the meat first in oil, then the onions and continue with the recipe.