Gluten-Free Blueberry Muffins
Once in awhile instead of just going to the grocery story to pick up a list of foods, you have to window shop and just look at what is there or you are going to miss out of something new that's really great. Trader Joes is one of my favorite places to do this. It was one of those times that I found the dried wild blueberries next to the bags of nuts. They were a beautiful color and looked delicious. I didn't have anything in particular in mind but I knew I had to do something with them so I tossed them into my shopping cart. The first thing I did was to use them to decorate the Fresh Strawberry and Pear Salad With Cottage Cheese, a red, white a blue salad for the 4th of July. The next recipe was these blueberry muffins.
I had tried both fresh and canned blueberries in muffins in the past and was never very satisfied with what I made. When I was starting to bake with gluten free flowers, it felt like time for another try. I experimented with some different grains and wanting to make the muffins especially healthy, decided to try making a recipe with a lot of buckwheat flour. Using these dried berries made the final result just what I was looking for.
Gluten-free baked goods can become very dry, and this one is a bit crumbly. I made some adjustments but changing the texture meant losing the unusually rich taste of the muffins. So one morning I cut one of the muffins in half and placed some butter inside, wrapped it in foil and heated it in the oven. It still fell apart but was moist and and even more flavorful. I was hooked. A blueberry muffin was breakfast every day for weeks. Just for fun I replaced the blueberries with cranberries for one batch, and missed the blueberries. Something about the grains in the recipe had brought out the best in the blueberries. The buckwheat perhaps?
Blueberries are a high antioxidant superfood. Buckwheat is also a powerful antioxidant. Buckwheat is a fruit seed flour not a cereal grain flour. It scores very low in the glycemic index which makes it better for controlling your blood sugar so there aren't spikes and then lows in energy. It's also a good source of magnesium, a mineral that relaxes blood vessels, improving blood flow and nutrient delivery and lowering blood pressure. Among its powerful antioxidant phytonutrients, buckwheat has flavonoids, compounds that maintain blood flow, keep platelets from clotting excessively which can protect LDL from free radical oxidation, and it has lignans that protect the body from heart decease and hormone dependent cancers so it's good for women. Eating six 3 ounce servings of buckwheat a week is especially good for postmenopausal women.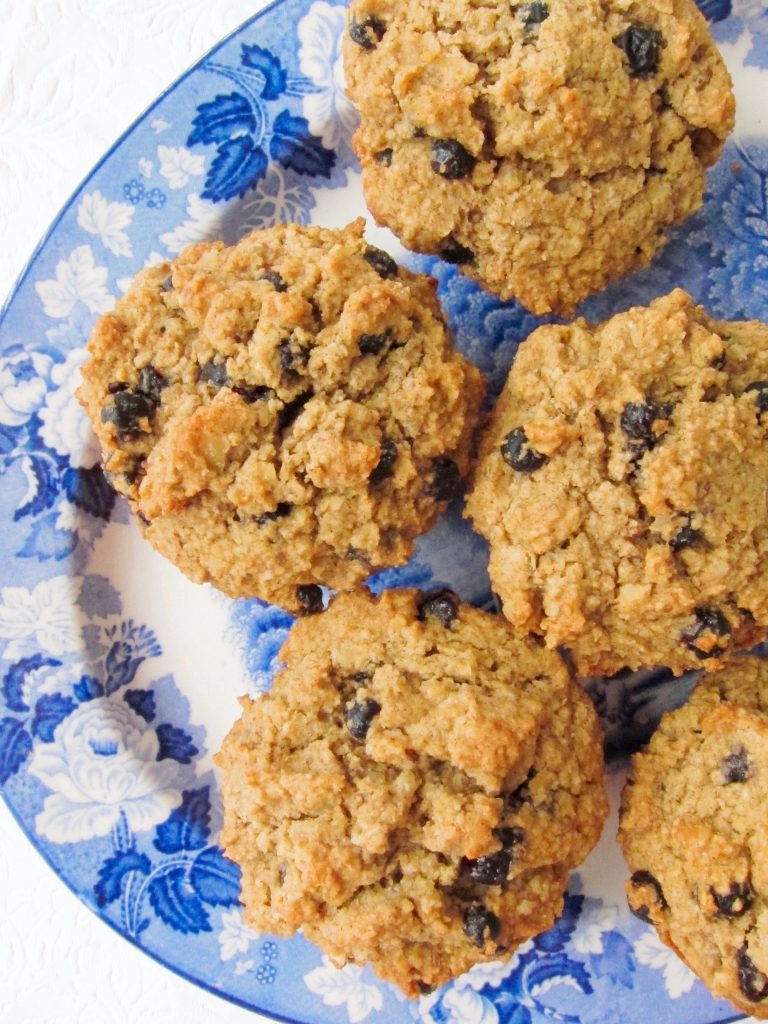 Gluten-Free Blueberry Muffins
Ingredients
1 cup toasted oat bran
1/3 cup brown rice flour
1/3 cup quinoa flour
2/3 cup buckwheat flour
1 heaping tablespoon coconut flour
1 teaspoon baking soda
1 teaspoon baking powder
1/2 teaspoon salt
1/2 can (7 ounces) canned coconut milk (3/4 cup plus 2 tablespoons)
2/3 cup apple sauce
2 eggs
1/2 cup maple syrup
1/2 cup melted coconut oil
6 ounces dried blueberries
1 cup chopped walnuts
Instructions
Butter a muffin tin and set aside. Place bran, flours, baking soda, baking powder and salt in a mixing bowl. Beat coconut milk, applesauce, eggs, maple syrup and coconut oil in another bowl and add to the flour mixture. Stir in the nuts and berries.
Bake in a 350 degree oven for 20 minutes or until top bounces back when you touch it.
Store in the refrigerator. To serve, slice in half and place a piece of butter inside. Wrap in a wax paper lined foil packet and bake in a 350 degree oven for 10-15 minutes or until hot and butter has melted.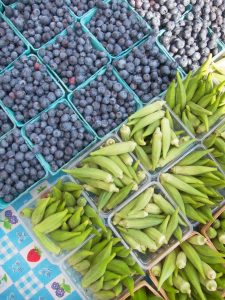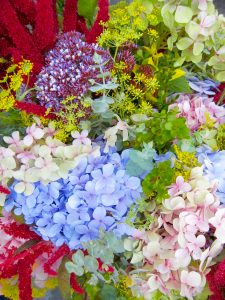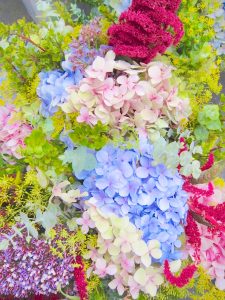 You can find dried organic wild blueberries sweetened with apple juice at edenfoods.com.