Salmon Burgers With Remoulade Sauce and Braised Asparagus
It's a bit tricky trying to understand what fish is safe and healthy for us. 'Farm raised' can mean in a man made tank, or that they are raised in a net that is being moved around in the ocean. Whole Foods has done its homework and is a good store for knowing what you are getting. Atlantic farm raised salmon, if cooked properly, is very tender, almost buttery. Wild salmon from Alaska has been in the cleanest water, and we are told it is the healthiest kind of salmon for us, but it is tougher. Making salmon cakes with it works great.
I fell in love with salmon burgers when I had one at The Daily Grill on Colorado. They started a 600 calories menu and this was on the new list. They served it on a sandwich bun with arugula and grilled asparagus. I asked the waiter what the sauce was and he happily checked on it for me. It was remoulade sauce. They do it right at the Daily Grill using quality, natural ingredients and the chef who creates the recipes really knows what he's doing.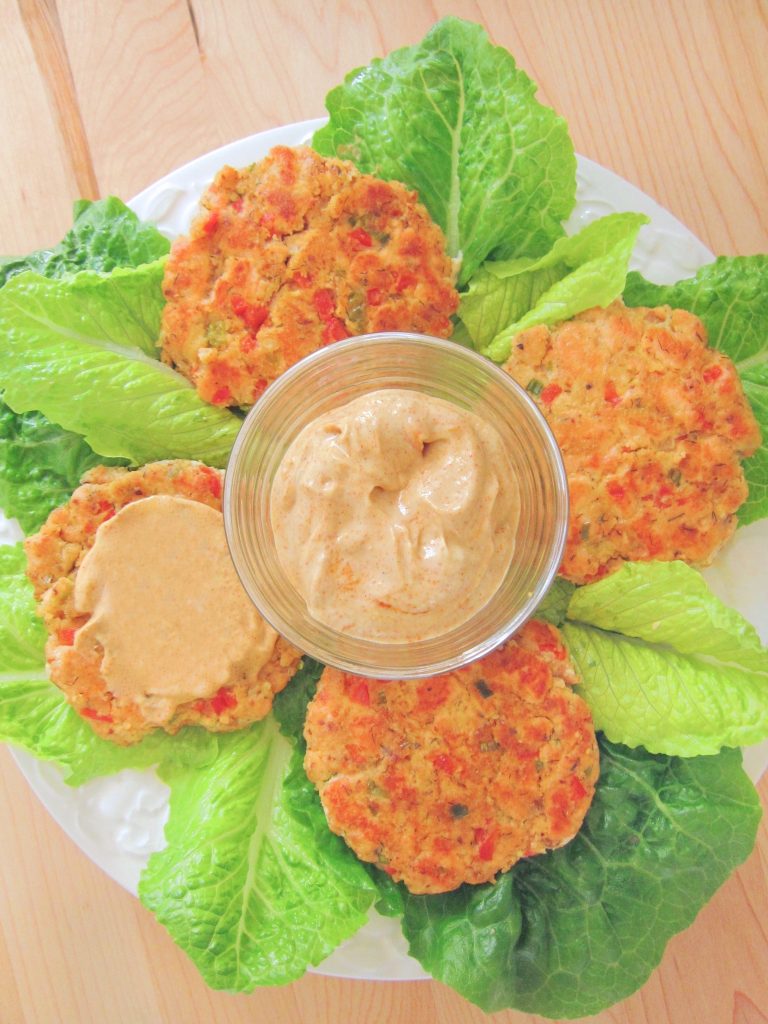 Salmon Burgers
Ingredients
1 pound fresh wild salmon, skinless
1/4 cup red pepper, finely diced
2 green onions, finely diced
1 clove of garlic, minced
1 large egg, lightly beaten
2 tablespoons avocado oil or olive oil
2 tablespoons lemon juice
1 tablespoon fresh dill, minced or 1 teaspoon dry dill
2 teaspoons Penzey's Cajon Seasoning
1/2 teaspoon salt
1/4 teaspoon pepper
1 1/2 cups regular or gluten free bread crumbs (see Nutritious Gluten-Free Sandwich Bread) or for grain free crumble 3 Grain-Free Rolls)
Instructions
Cut salmon into 1 inch pieces. Place half in food process and pulse until coarsely chopped into 1/4 inch pieces. Repeat with second half. Mix all remaining ingredients together and gently mix together, then gently form into 8 patties. Melt 2 teaspoons of butter and 2 teaspoons of the oil in a frying pan on medium heat. Fry patties on both sides for 3 to 5 minutes until they are a medium brown color. Spread two teaspoons of remoulade sauce over burgers before serving.
Remoulade Sauce
Ingredients
1 1/4 cups grape seed oil mayonnaise
2 tablespoons Dijon mustard
2 teaspoons Penzey's Hungarian Sweet Paprika
1 1/2 teaspoons Penzey's Cajun Seasoning
1 teaspoon prepared horseradish
1 teaspoon lemon juice
1 clove garlic, minced
Instructions
Combine all ingredients and refrigerate a few hours before using.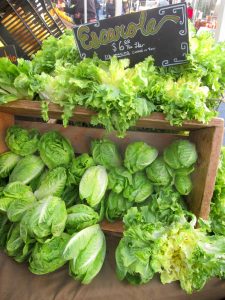 These burgers are delicious on a bed of arugula with sliced tomatoes with a light dressing, or with brown rice and braised asparagus.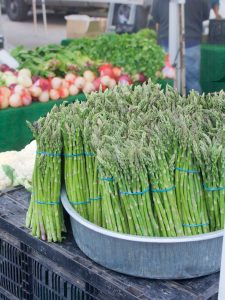 Braised Asparagus
Ingredients
fresh asparagus
salt
olive oil
Instructions
To braise asparagus, bring 1 inch of water (add a little salt to the water) in a skillet to a boil. Snap off the ends of 8 asparagus. Lay the asparagus next to each other. Braise, uncovered for 10 to 12 minutes or until desired tenderness. Remove from water with tongs, drizzle with olive oil and sprinkle with a little salt.