Falafels With Tahini Sauce
Falafels are a Eastern Mediterranean dish made with a mashed garbanzo beans mixture that is rolled into balls and deep fried. But you can also think of them as a vegetarian burger. So that I don't need to use as much oil, I make mine small and use a small skillet with about a 1/3 – 1/2 inch of oil. They are more sautéed than deep fried. Don't use canned beans or the falafels will be mushy.
Cooking Mediterranean food is kind of a mix and match. You can switch one accompaniment for another. I like falafels with hummus (Party Hummus Oct/2011) and tomatoes. I've seen recipes using falafel as stuffing for baked vegetables and inside of pita bread, with sliced tomatoes, cucumbers and tahini sauce, as a sandwich. Also try them on a salad made with spring greens, tomatoes, cucumbers, thinly sliced red onions, feta cheese and Kalamata olives.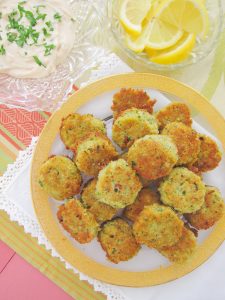 Falafels With Tahini Sauce
Falafel
Ingredients
1 1/2 cups dried garbanzo beans (don't use cooked canned beans)
4 cups water
1 medium onion, coarsely chopped
2 garlic cloves
6 tablespoons chopped fresh Italian parsley
3 tablespoons chopped fresh cilantro
1 teaspoon coriander
1/2 teaspoon cumin
1 teaspoon salt
1/8 teaspoon pepper
coconut or light olive oil*
Instructions Place beans and water in a bowl, cover and let soak overnight. Drain water and do not cook. In a large bowl mix onion, garlic, parsley, cilantro, cumin, coriander, salt, pepper and soaked beans. Divide into three batches and place first batch in a food processor. Pulse 3 times for 2-3 seconds, scrapping down the sides. You want small pieces, not mush. Form into 35 balls on a cookie sheet. Press the balls down slightly. Chill for 30 minutes. Heat 1/3 -1/2 inch oil in a small skillet being careful not to let the oil get so hot it smokes. Carefully lift falafels off the cookie sheet in batches, about 6 -7, into the heated oil and let cook about 3-4 minutes until golden brown, turn over with tongs and brown the other side. Drain on paper towels. Serve with Tahini Sauce or Party Hummus.
*Trader Joe's Trader Grotto's Sicilian (cold pressed) Extra Virgin Olive Oil is a blend of three olives from Sicily, packaged in Italy in a beautiful bottle. It's light and delicious. Store it in the dark and use up within a month.
Tahini Sauce
Ingredients
1/3 cup tahini
1/4 cup water
1/4 cup lemon juice
1 teaspoon cumin
2 teaspoons honey
1 large clove garlic, minced
Instructions
Mix all ingredients together in a bowl.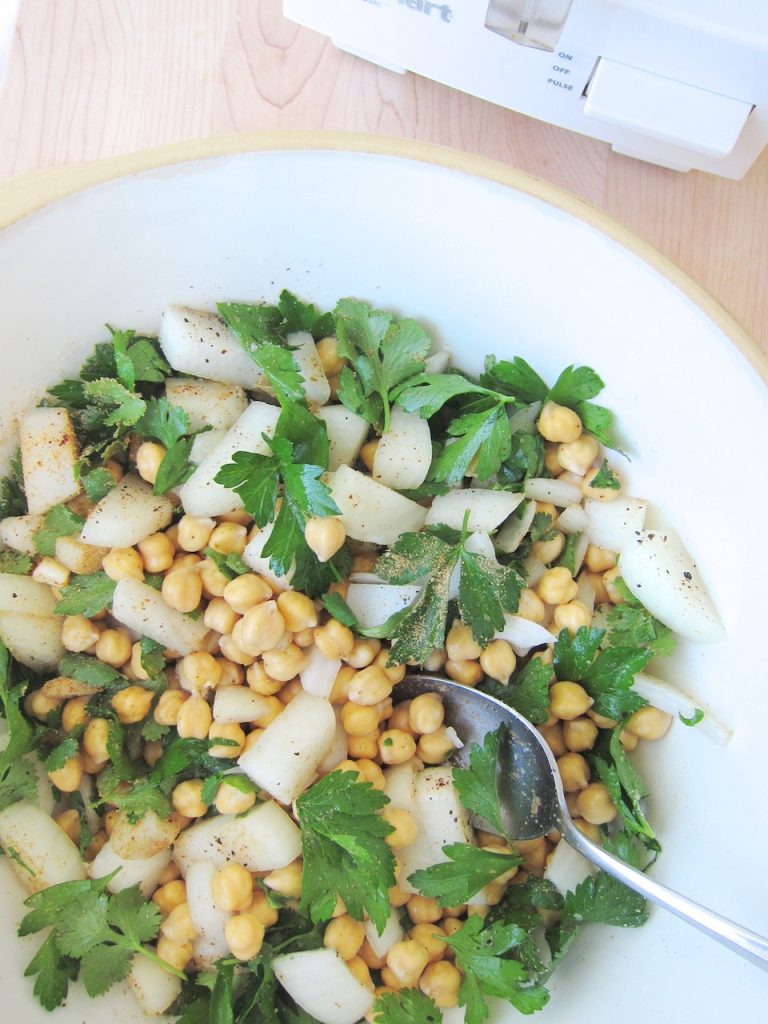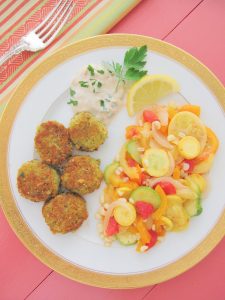 Falafels make a great vegetarian meal when served with Italian Garden Sauté.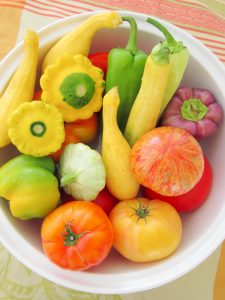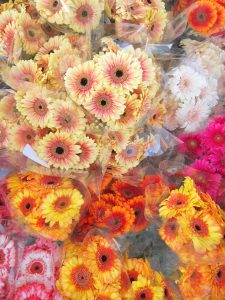 Fresh garbanzo beans are great in the sauté.