Pizza With Zucchini Crust
This is the pizza you get to eat when you want to lose weight. There's no flour. It's just meat, vegetables, eggs and cheese. Zucchini's are a very low calorie vegetable and a good source of fiber.
Cheese is a powerhouse of nutrition. No one knows for certain where cheese making began but the history of cheese can be traced back to the Roman Empire, the Middle East, Tibet, Mongolia, the Ming Dynasty and Europe. Cheese is a source of protein, calcium, phosphorus, zinc, vitamin A, B12 and K2. The high quality of protein in cheese provides the body with essential building blocks for strong muscles. The saturated fat in cheese will not make you overweight or lead to heart disease. The Greeks, French and Germans eat much more cheese than Americans and have lower rates of hypertension and obesity. Eating low carb — less breads, pasta, cereals and sugary foods — is how you maintain a healthy weight and have a healthier cardiovascular system.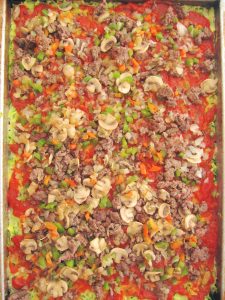 Pizza With Zucchini Crust
Crust
Ingredients
4 cups (about 5 6″ zucchini), shredded and squeezed in a towel to remove moisture
3/4 cup (3 – 4 ounces) mozzarella cheese
3/4 cup (3 – 4 ounces) sharp white cheddar cheese
2 eggs, slightly beaten
1/4 teaspoon garlic salt
1/4 teaspoon salt
Instructions
Mix all ingredients and spread in a greased 11 by 14 jelly roll pan. Bake in a 400 degree oven for 10 minutes.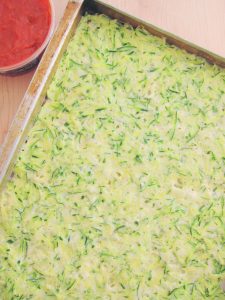 Topping
Ingredients
1 pound ground beef
1 tablespoon olive or rice bran oil
1 cup onion, chopped
1 cup green bell pepper (or a mixture of peppers), chopped
half a 8 ounce box of mushrooms, sliced
1 10 oz container of Trader Joe's pizza sauce or tomato sauce flavored with oregano
1 1/2 cup mozzarella cheese
1 1/2 cup sharp white cheddar cheese
1/2 cup parmesan reggiano cheese
Instructions
In a large skillet, brown meat and push to the side. Add the oil, onions, peppers and mushrooms and sauté 10 minutes. Spread pizza sauce on crust. Spoon meat mixture over sauce and top with cheeses.
Return to oven and bake 25 minutes or until the cheese has melted and the pizza is hot and browning.