Gazpacho "Cold Vegetable Soup"
Gazpacho is a soup made of raw vegetables that is served cold. It originated in southern Spain and is widely eaten in both Spain and neighboring Portugal during the hot summers. It's roots are ancient and among a number a theories it may have begun as an Arab soup made with bread, olive oil and garlic that arrived in Spain with the Moors or from Rome with the addition of vinegar. There are many variations now. You can find gazpacho with ham or shrimp, sometimes it will be a puree. I prefer it a little chunky and with just vegetables. Made with V8 juice and garnished with avocado this recipe is really delicious.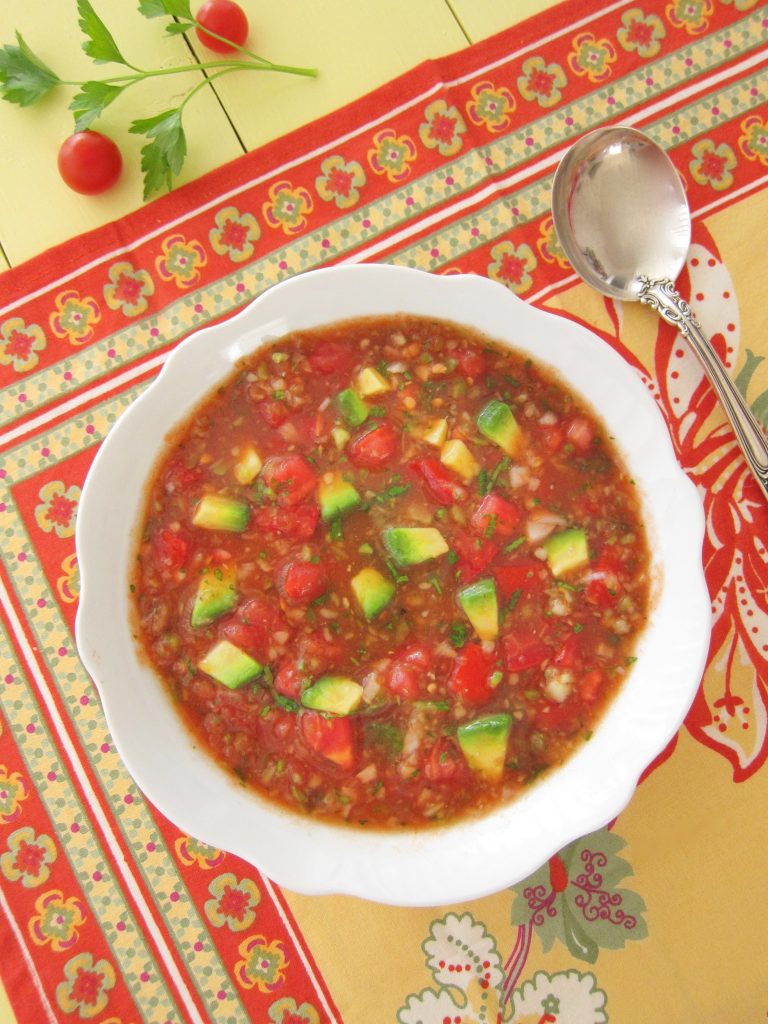 Gazpacho
Ingredients
5 cups diced beefsteak tomatoes
1 green bell pepper or part spicy peppers if you want some heat, cut in small pieces
1 cucumber, cut in small pieces
2 stalks celery, cut in small pieces
1/2 cup shallots, cut in small pieces
3 tablespoons Italian parsley leaves
1 1/2 cups V8 juice
1/4 cup red wine vinegar
1/4 cup light olive oil
3 tablespoons lemon juice
3 cloves garlic, minced
1 1/2 teaspoons honey
1/2 teaspoon salt
1/4 teaspoon pepper
diced avocado for garnish
Instructions
Place the tomatoes in a large bowl. Use a food processor to mince the bell pepper, cucumber, celery, shallots and parsley. Do them separately so you pulse just enough to have minced pieces and not mush. Transfer the vegetables to the large bowl as they get minced. In a smaller bowl mix the V8 juice, vinegar, olive oil, lemon juice, honey, salt and pepper. Pour this over the vegetables and stir. Refrigerate at least 4 hours or overnight to blend the flavors. Garnish with avocado and/or a chiffonade, long thin strips, of fresh basil leaves.