Even those who don't have to work may not want to spend hours everyday in the kitchen. This is a dinner you can throw together in less than a hour, including shopping if you don't have to wait in the check out line very long and assuming you have bread crumbs and pesto in the freezer at home. You can make it gluten free, low carb and it's a nice company dish.
Caprese is a name that can be given to a dish prepared with tomatoes, mozzarella, basil leaves and olive oil — like a caprese salad, a caprese sandwich or caprese pizza — a style originating in Capri, an island in West Italy in the Bay of Naples.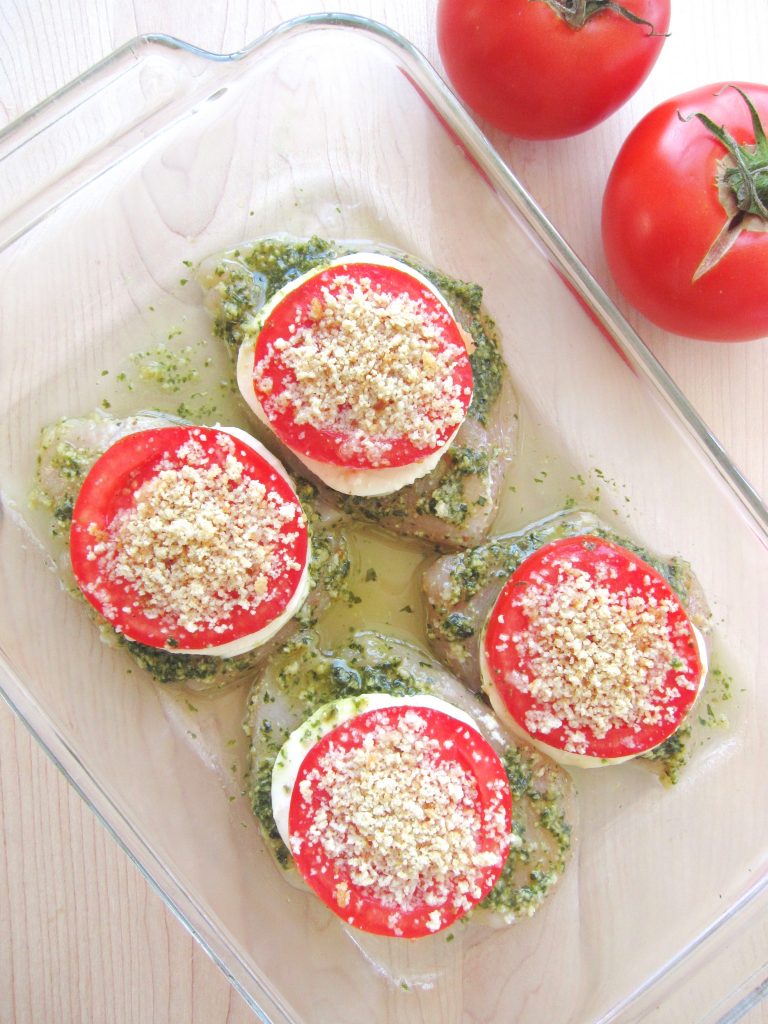 Chicken Caprese
Ingredients
2 chicken breast, slices diagonally and pounded to 1/2 inch thickness (You want about a 6 to 7 ounce breast. Large breasts can be slice through the middle to make thinner instead of pounding)
1/3 cup (about 3 frozen cubes) pesto (see below)
4 slices of fresh mozzarella cheese or gruyere cheese
4 slices of a firm but ripe tomato, peeled
1 small garlic clove minced
1/4 cup almond meal or fresh bread crumbs (see Nutritious Gluten-Free Sandwich Bread June/2014)
avocado oil or light olive oil*
salt and pepper
grated asiago and/or Parmigiano-Reggiano (24 month aged parmesan) cheese
Instructions
Rub each side of the 4 pieces of chicken with olive oil, sprinkle both sides with salt and pepper and lay in a casserole. Divide the pesto among the pieces and spread over the top. Lay a slice of mozzarella on each one, then a slice of tomato. Drizzle each tomato with a little oil and spread the minced garlic into the oil. Top the tomatoes with the bread crumbs. Bake in a 425 degree oven for 22 minutes. Sprinkle with grated cheese.
Serve on pasta or rice (recipe below) if desired. For a vegetable, sautéed onions and squash is good with this.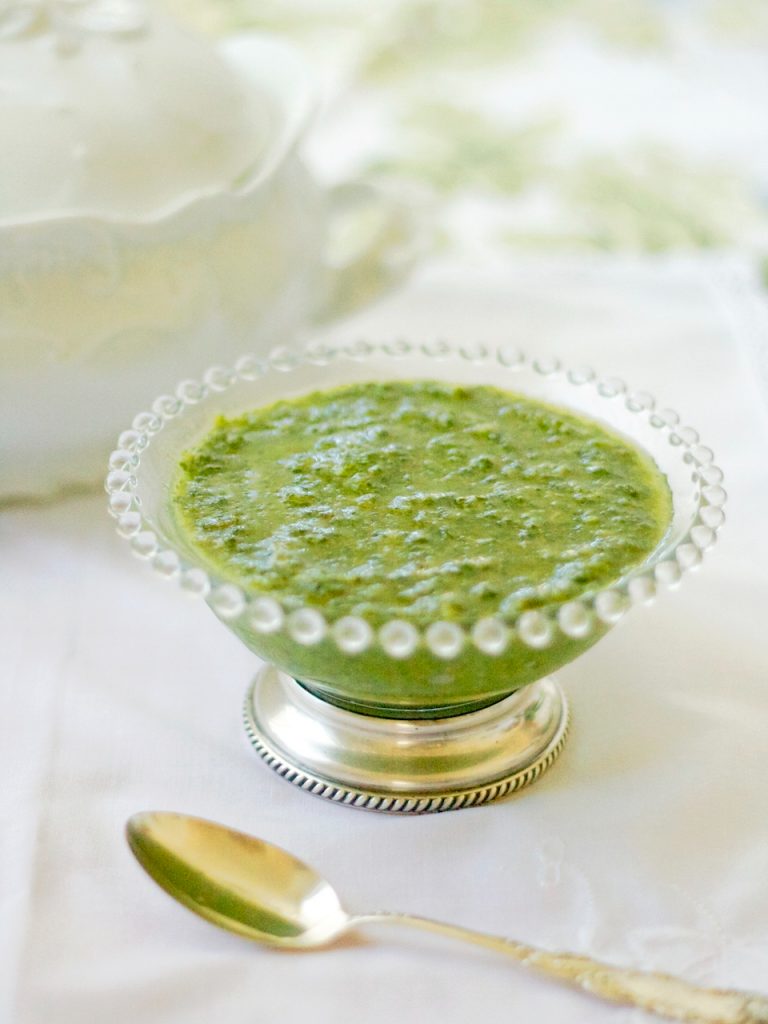 Homemade Pesto
Ingredients
2/3 cup pine nuts
1 cup olive oil
1 4 ounce box of basil leaves (3 lightly packed cups basil leaves)
1/4 cup grated Parmigiano-Reggiano cheese
3 cloves garlic
1 teaspoon salt
Instructions
Put pesto ingredients in food processor and process/pulse just enough so you can still see the pieces of basil and finely chopped nuts.
Pesto can be frozen in an ice cube tray. Once it has hardened, wrap each cube in plastic wrap and toss in a freezer bag. These frozen cubes thaw very quickly.
*Trader Joe's Trader Grotto's Sicilian (cold pressed) Extra Virgin Olive Oil is a blend of three olives from Sicily, packaged in Italy in a beautiful bottle. It's light and delicious. Store it in the dark and use up within a month.
Easy Brown Rice
To cook rice, fill a pot three quarters full with water and bring to a boil. Rinse the rice with water using a sieve. Once the water is boiling, add the rice. Let the rice boil uncovered for 35 minutes, then remove from heat and drain all the water out. Put a lid on the pot and let stand for 5 to 10 minutes. Remove lid, sprinkle the rice with a half teaspoon of salt and fluff the rice with a fork.