Taco Salad With Black Bean Salsa
The history of salsa can be traced back to the Aztecs and Mayans in Central America. and the Inca indians in South America. The Spaniards first encountered tomatoes after they conquered Mexico in 1519 and this began salsa's story. Aztec lords combined tomatoes, chili peppers and ground squash seeds and ate the mixture with turkey, venison, lobster and fish. spices. The condiment was named 'salsa' by Alonso de Molino in 1571.
In 1916 Charles E. Erath of New Orleans began the first business in salsa sauce with an Extract of Louisiana Pepper and Red Hot Creole Peppersauce, and a year later La Victoria Foods started Salsa Brava in Los Angeles. By 1991, America had Pace, Old El Paso, Frito-Lay, Chi-CHi's, La Victoria, Ortega, Herdez and Newman's Own to choose from.
This recipe for Black Bean Salsa is an adaptation from the The Garden of Earthly Delights Cookbook. I got the idea to make it part of a taco salad and it's great!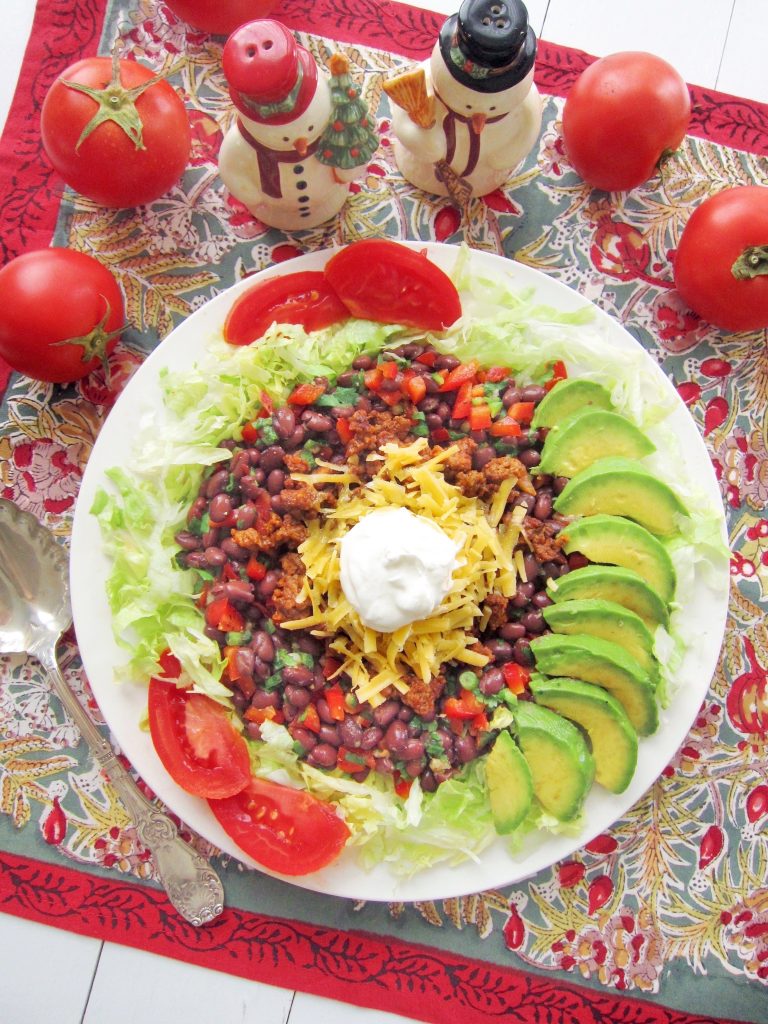 Taco Salad With Black Bean Salsa
Salad Ingredients
1 pound ground beef
1 package taco seasoning
shredded lettuce
grated cheddar cheese
avocado
tomato, diced or sliced
sour cream

Black Bean Salsa Ingredients

1 can black beans, drained and rinsed
1 sweet red pepper, diced
1/2 jalapeno, minced
3 green onions, sliced thin
1/4 cup loosely chopped cilantro
1 garlic clove, minced
1/2 teaspoon cumin
1/2 teaspoon salt
1/3 teaspoon pepper

Instructions

Mix salsa ingredients and chill for 3 hours. Cook meat according to directions on the back of the seasoning mix. Assemble salad as desired.