Winter Coleslaw With Sprouted Watermelon Seeds
This is a heathy 'fast food' salad you can have ready in the refrigerator and throw together in one minute or less. Just slice a large amount of the vegetables (except for the kale) and place them in a large plastic bag lined with paper towels, and they will keep for up to a week.
Making a salad like this as one of your meals every day gives you a powerhouse of nutrition. Watermelon seeds are high in protein (28%), the amino acids that are the building blocks for new proteins that are made in your body. Along with the olive oil, watermelon seeds are a source of good fat to regulate your cholesterol levels. The normal range for HDLs (good cholesterol) is 50-60. The normal range for LDLs (bad cholesterol) is 60-130 and your triglyceride count should be under 150. Good fats from foods like salmon and sardines, avocados, nuts and seeds, olive and coconut oil, will do two things. They put your body in the optimal range of HDLs (risk of heart disease is helped significantly less when it's over 85). And HDLs lower the LDL count because HDLs remove LDLs from the blood.
Heart disease is a result of inflammation in your arteries and eating the right oils is one component in a healthy diet to avoid heart disease, obesity, diabetes and cancer.
www.disclose.tv/news/World_Renowned_Heart_Surgeon_Speaks_Out_
On_What_Really_Causes_Heart_Disease/113103#.VRQhohiQ8W0.facebook
Watermelon seeds are also high in zinc and iron.
All the vegetables in this salad are the super food cruciferous vegetables full of vitamins, fiber and disease fighting photo-chemicals.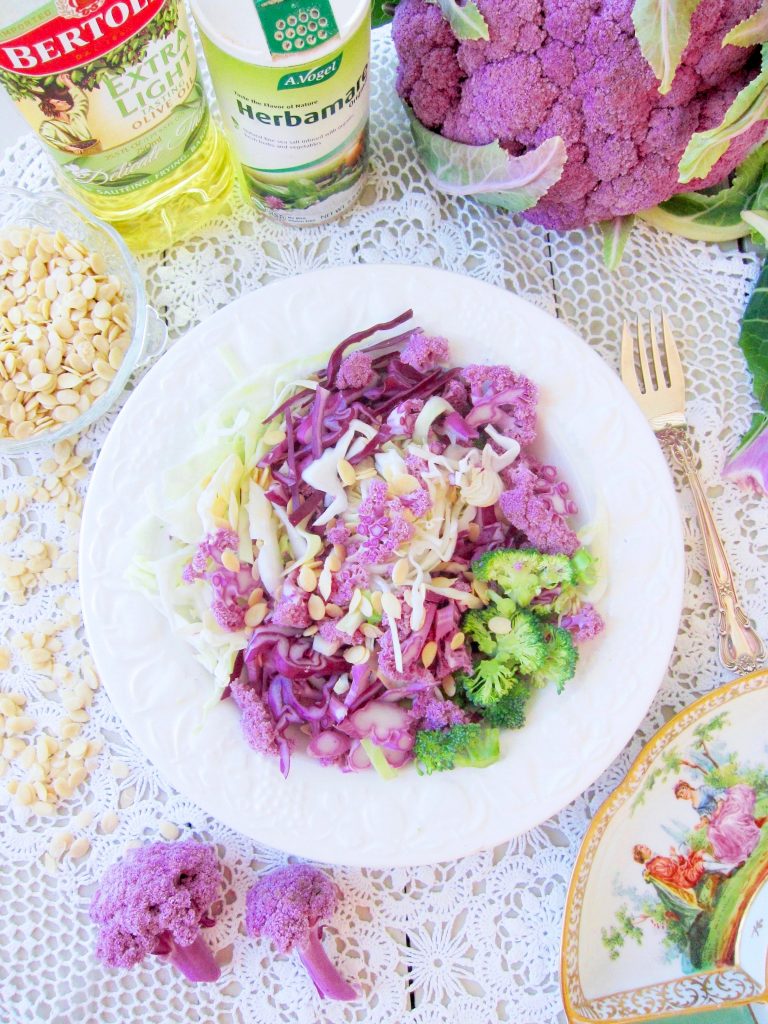 Winter Slaw With Sprouted Watermelon Seeds
Ingredients
red cabbage, sliced thin
green cabbage, sliced thin
broccoli, sliced thin
cauliflower, sliced thin
Brussels sprouts, sliced thin
carrots, sliced thin
radishes, sliced thin
kale, sliced thin
sprouted watermelon seeds (Von's carries these) or pumpkin seeds (pistachios are good too!)
Instructions
Assemble any choice of the vegetables in a bowl or on a plate. Sprinkle with seeds and drizzle with dressing.
Dressing 1
Herbamare Seasoning
1-2 tablespoons grape seed oil or light olive oil
1-2 teaspoons apple cider, Coconut Secret, or other sweet vinegar (opt)
Instructions
For a quick and simple dressing, sprinkle salad with seasoning, olive oil and vinegar.
Dressing 2
Ingredients
1/4 cup olive oil or grape seed oil
1/4 cup sweet vinegar of choice
2 tablespoons clover honey, agave or maple syrup
3/4 teaspoon salt
1/4 teaspoon pepper
1 clove garlic, minced
Instructions
Measure all dressing ingredients into a jar and shade until well blended.