Once upon a time nouvelle cuisine was the step away from classic cooking but now it seems anything goes. This soup is venturing out into the foodie world where recipes can get a little strange sounding as many foodies like things that are very different, or as tastespotting.com (probably the number one website for foodies) puts it, they invite you to submit "weird" recipes. I don't normally go for the really crazy mixtures but this one from The Los Angeles Times (December 27,2014) sounded interesting so I decided to try it and see what happened.
The title of the article by Russ Parsons was "Simple, Satisfying Soups" and the first thing I learned was that "simple" for these creative chefs doesn't mean quick. For so many soups, you throw everything into a pot and turn it on. This recipe takes some time and it felt like I was making courses. To avoid messing one up with another, I kept everything organized in bowls.
As it turned out the recipe was fun to make, and the end result was very pretty as well as true to form — different — and I was surprised by being so pleased with it and actually really enjoying it. The browned onions were chewy with was the most strange but the wonderful taste of browned onions was somehow enhanced by the bisque. I tried to see if I could pick up each of the tastes, like the dill in the pesto, and it made me appreciate the professional tasters on the chef competition shows who can pick out all the flavors and tell you if they are in the right balance.
The original recipe in the Times was called "Spiced Vegetable Soup" a fusion of cuisine ingredients that are mostly Mediterranean. It was a vegetarian recipe that had you add enough water to cover the vegetables, which I changed to chicken broth. The pesto was called an "herbed oil" and it was made with pistachios. I substituted pinenuts and recategorized it as a pesto because of its consistency. The original recipe also called for 3 teaspoons hot pepper paste, such as harissa, which is a North African and Middle Eastern condiment made with a Tunisian (North African) pepper which are often smoked, garlic, olive oil and spices, like cumin, coriander, caraway and mint. Tomatoes and rose petals are also common ingredients in harissa. If you would like to make this bisque spicy, this is added along with the cinnamon, cumin and smoked paprika. You can find smoked paprika at Penzey's.
Next time I may use pistachios and try throwing in a sweet potato in place of a russet for more nutrition and a little sweetness.
Mediterranean Bisque
Bisque
Ingredients
3 tablespoons avocado oil or olive oil
2 large onions, diced
3 cloves garlic
2 cups leeks, white and light green parts only (slice down the middle, rinse in between all the layers, slice down the middle of each half and slice thinly, removing the dark green parts)
5 cups (one medium) butternut squash, peeled, seeded and cut into small cubes
5 cups (about 3 medium) russet or boiling potatoes, unpeeled, cut into small chunks
4 teaspoons cumin
1 teaspoon cinnamon
2 teaspoons smoked paprika
3 teaspoons hot pepper paste like harissa (optional, see introduction)
4 cups fresh chopped tomatoes
5-6 cups chicken broth or water
3 teaspoons salt
1/2 teaspoon pepper
2 cans garbanzo beans, divided (3/4 cup for topping), and juice reserved (about 2 cups juice)
2 cups zucchini (2 medium), diced small
feta cheese
pesto (below)
onion topping (below)
Instructions
Heat the oil. Add onions, garlic, leeks, butternut squash, potatoes. Cook without browning for 30 minutes until vegetables start to soften, stirring occasionally.
Add cumin, cinnamon, and paprika and stir to coat vegetables with spices. Add tomatoes, chicken broth, salt and pepper. Bring to boil, turn heat down to simmer and cook until vegetables are tender. Puree in blender in batches.
Return to heat and simmer 20 minutes.
Add zucchini, garbanzo beans and reserved juice. Cook 20 minutes or until zucchini is tender.
Serve in wide soup bowls topped with feta, pesto and onion topping.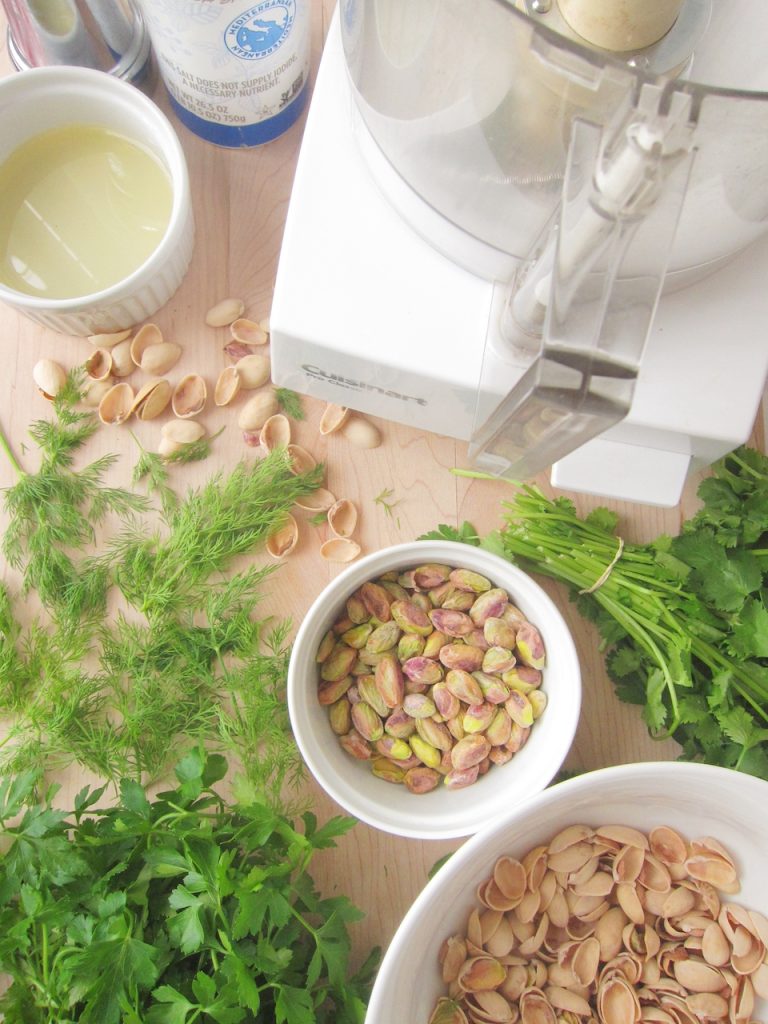 Pesto
Ingredients
1 cup loosely packed parsley
1/2 cup loosely packed dill
1 cup loosely packed cilantro
1/3 cup pinenuts or pistachios
2 teaspoons lemon juice
6 tablespoons olive oil
1/2 teaspoon salt
Instructions
Process in food processor and set aside.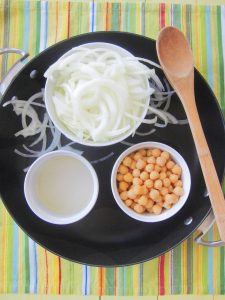 Onion Topping
Ingredients
2 tablespoons olive oil
1 large onion, sliced thin
3/4 cup of garbanzo beans
Instructions
Saute onions until turning golden brown. Add the garbanzo beans and continue sautéing until they have browned and getting crunchy. Set aside.
*Trader Joe's Trader Grotto's Sicilian (cold pressed) Extra Virgin Olive Oil is a blend of three olives from Sicily, packaged in Italy in a beautiful bottle. It's light and delicious. Store it in the dark and use up within a month.