During a recent visit to the farmers market, I spotted a vegetable cut in half lying on a crate. It had caught my eye because it was a light green on the outside and bright magenta on the inside, and also because I'd never seen it before which happens a lot at the farmers market. I looked around to see which bin this beautiful vegetable had come from so I could find out what is was. The bin was close by and there was a woman there filling a bag full of them. The sign said "watermelon radish." I asked her about them and she said she loved them and bought a big bag them every week. They tasted "buttery" she said then and told me to peel them, slice them thin and make a salad with a lemon, oil and salt and pepper dressing. Something new to try. How fun!
I returned the radish that had been cut in half to the bin where it belonged, took a picture and filled up a bag with the radishes. I walked a little further and another farmer had some very pretty chidori kale, which I'd also never seen before, and I thought, 'I wonder if you can eat this raw in a salad. The colors of these two vegetables would make a great pair for a picture.' After I finished the rounds and the market, I took them home to try out the new salad.
As I washed the radishes, I was so grateful I had run into someone who knew what to do with them because I probably wouldn't have thought to peel them. I followed the woman's instructions and then got the kale leaves ready. I had picked up some butter lettuce because it is also very pretty and I had also been buying these perfect looking, wonderful little tomatoes every week.
Everything tasted as good as they looked. The kale was the perfect choice and the butter lettuce. The contrast of their contrasting textures was great. The radishes were surprisingly mild and slightly sweet and, yes, buttery. So delicious I understood why the woman was buying a whole bag very week. Whoever would have thought a radish could taste so amazing! And I would not have wanted to miss out on the lemon in the dressing. It was just right.
Watermelon radishes are also known as Rooseheart or Red Meat. They are an heirloom Chinese Daikon radish, a member of the Brassica (mustard) family along with arugula, broccoli and turnips – lots of antioxidant nutrition.
The decorative kale that you see in professional landscaping and Better Homes and Gardens, and used as a garnish like parsley, is chidori kale. It's a slightly tougher but very edible and tasty. If you can't find it, use the medium green curly kale.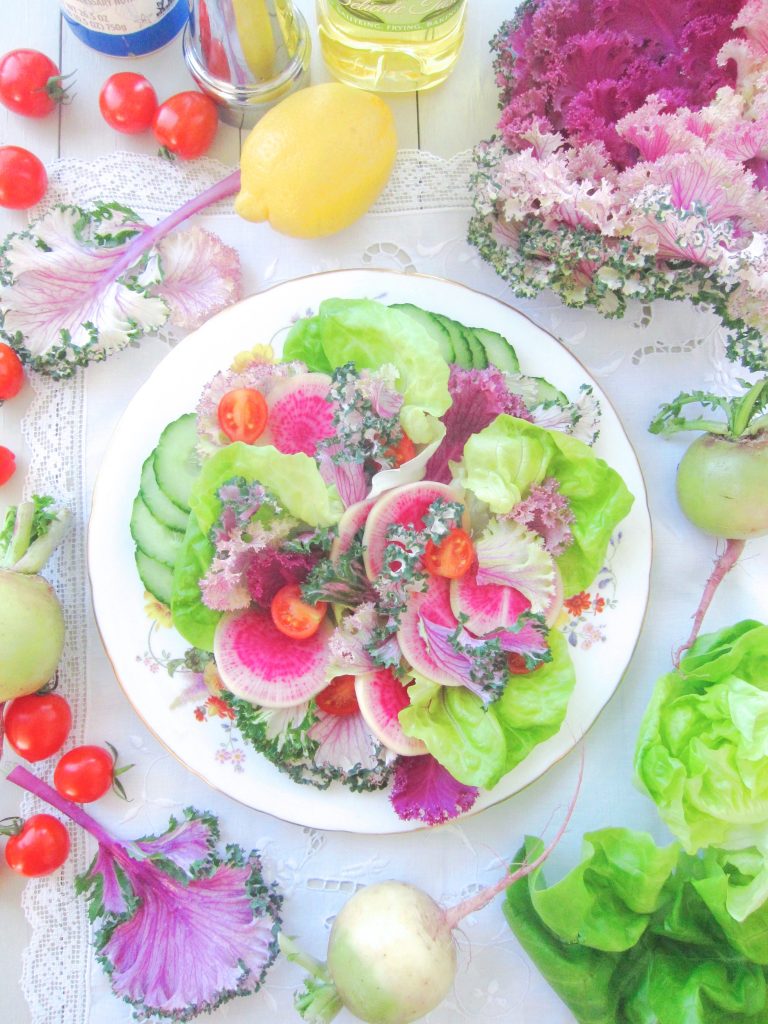 Watermelon Radish Salad
Salad Ingredients
butter lettuce and curly kale, broken into pieces
Persian or English cucumber, sliced
sweet white onion or red onion, cut in slivers
tomatoes, cut into bite sized pieces
watermelon radishes, peeled and sliced
Dressing Ingredients
lemon, cut in wedges
light olive oil
salt and pepper
Instructions
Arrange salad ingredients on plate. Drizzle with olive oil and lemon juice and sprinkle with salt and pepper.