Chicken Tenders With Fennel, Leeks, Broccoli and Mushrooms
Fennel is another member of the antioxidant greens family. It's stocks are topped with feathery green leaves that produce seeds. You can buy bottle of the seeds dried in the seasoning isle at the store. I was first introduced to the seeds when I asked a butcher for his recipe for Italian sausage. The recipe included parmesan cheese and fennel seeds and no Italian meatball should be without them. It has a very surprising licorice flavor. I like to crush the seeds with a mortar and pestle before adding them to the meat.
Only a few years ago was I introduced to the very odd looking fresh fennel bulb with its feathery tops. On a few occasions I have asked people at the farmer's markets how they like to use them, and most have said in salads. I played with it a little and it did add a fun licorice taste but I wasn't in like with it. I also saw a woman at Whole Foods loading a bag with fennel bulbs and I had to ask. She told me that she cuts them up and puts them in the roasting pan along side chicken. I went home and tried that too. Still not it. Then another year past and I saw a recipe for sautéed fennel and leeks. By this time I had figured out how to cut the bulb up pretty well. Both leeks and fennel take a little practice to cut up properly. I cooked them until they were tender and some of the pieces of leeks were just a little brown. It wasn't a very attractive dish because of the lack of color, but the flavor was wonderful. The combination of fennel and leeks was like cooking mushrooms with garlic and wanting to put it on everything, which I do. Add garlic to this dish if you want to. Salmon sounds next on the list to flavor with fennel and leeks. We'll see how that goes!
Enjoy!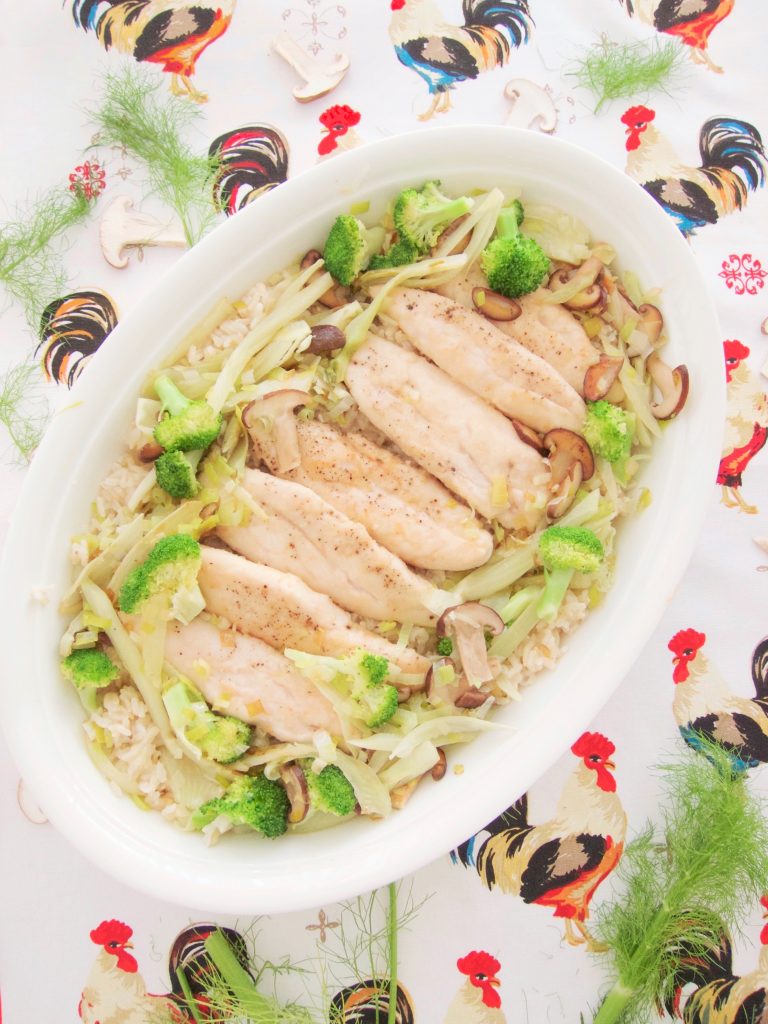 Chicken Tenders With Fennel, Leeks, Broccoli and Mushrooms
Ingredients
1 cup brown rice
3/4 to 1 lb of chicken tenders, tendons removed
salt
pepper
3 tablespoons flour (opt.)
1 1/2 tablespoons butter, divided
1 1/2 tablespoons olive oil*, divided
1 fennel bulb (stalks and fronds cut off), slivered
1 leek, sliced, white and light green parts only (slice down the middle, rinse in between all the layers, slice down the middle of each half and slice thinly, removing the dark green parts)
8 – 10 broccoli florets
5 – 6 shiitake mushrooms, sliced
Instructions
To cook rice, fill a pot three quarters full with water and bring to a boil. Rinse the rice using a sieve. Once the water is boiling, add the rice. Let the rice boil uncovered for 35 minutes, then remove from heat and drain all the water out. Put a lid on the pot and let stand for 5 to 10 minutes. Remove lid, sprinkle the rice with a half teaspoon of salt and fluff the rice with a fork.
While rice is cooking, sprinkle chicken tenders with salt and pepper. If using flour, spread it on a dish and roll the tenders in the flour until covered. Heat a half a tablespoon of butter and a half tablespoon olive oil. Add chicken tenders and cook 3 minutes each side until lightly browned and cooked all the way through. Set aside and keep warm.
Add remaining 1 tablespoon of butter and oil to pan and sauté fennel, leeks, broccoli and mushrooms, until tender.
Spoon rice into a serving dish and lay chicken tenders over the rice and surround with the vegetables.
*Trader Joe's Trader Grotto's Sicilian (cold pressed) Extra Virgin Olive Oil is a blend of three olives from Sicily, packaged in Italy in a beautiful bottle. It's light and delicious. Store it in the dark and use up within a month.