Grandma Ruth's Vegetable Beef Soup
My grandma made this soup for the family when they came over and I remembered loving it. I was too little to know to ask for the recipe and unfortunately it wasn't in her recipe book. I'm thinking it was passed down verbally from someone and she made it so often, she never needed to write it down. It had been on my bucket list to try and figure out. There was a flavor and I didn't know what it was until I was playing around and made this soup. It was cumin. I knew it when I took the first bite.
She kept it plain using only a few vegetables, the meat and a lot of broth. And it would have been broth made from good meaty bones she'd cooked for hours. I've added a lot of vegetables. Please feel free to change it the way you would like it.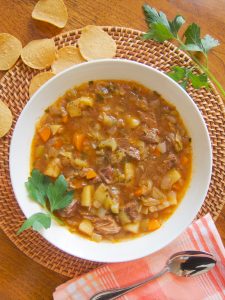 Grandma Ruth's Vegetable Beef Soup
Ingredients
2 – 3 pounds beef stew meat
salt and pepper
2 tablespoon avocado oil
2 32 ounce Swanson's Organic Beef Stock or homemade
1 8 ounce can tomato sauce
2 bay leaves
1 large yellow onion, diced
4 large cloves of garlic, minced
1 tablespoon butter
1 medium sized head of celery, sliced in 1/3″ pieces
1 pound carrots, sliced in 1/3″ pieces
4 – 5 cups white or sweet potatoes, remove unwanted blemishes, then cut in 3/4″ pieces
to make thicker you can add rutabaga cut in 1/2″ pieces or green cabbage cut in pieces, or a large fennel bulb cut sliced and cut in pieces
1/4 cup chopped parsley
2 teaspoons cumin
two big handfuls of fresh spinach (opt.)

Instructions

Sprinkle stew meat with salt and brown in avocado oil in a hot dutch oven in batches. Don't let the drippings burn. Return all the meat to the pot, add the stock, tomato sauce and bay leaves, bring to boil, cover and bake in a 225 degree oven for 1 1/2 hours.

Sauté the onions and garlic in the butter for 3 minutes add the vegetables, parsley, and sprinkle with salt and cook 10 minutes. Remove pot from oven and place on stove. Carefully lift off the lid, watching for steam, add the vegetable mixture and cumin, bring to boil, recover and return to the oven and bake an additional 1 1/2 hours. Remove bay leaves and stir in the fresh spinach if using.