Taco Salad With Cilantro Dressing
This recipe is a paleo and lectin free version of Gaby's Taco Salad With Cilantro Vinaigrette. A keto diet is great for keeping your weight down and your gut happy. And I happen to be extremely sensitive to mustard seeds and have just made a habit of keeping the amount of other higher lectin foods low in my diet.
Gaby's recipe has cherry tomatoes, fresh corn, black beans, and red pepper flakes. Cherry tomatoes have skins and seeds that have lectin. Corn is a grain. Black beans have lectins. Red pepper flakes are the seeds and skins of a chili pepper where most of the lectins are. Taco seasoning has chili pepper in it which is the flesh of a chili pepper (minus the seeds and skin).
I've added sliced red cabbage for color and nutrition. If you are not avoiding grains and lectins, please click on the link above to get the amounts of the cherry tomatoes, fresh corn, black beans, and red pepper flakes, to add all these to your salad and dressing.
I've included cold white rice which is a resistant starch that your stomach doesn't completely digest. It is passed down into your colon where it ferments and becomes food for your gut bacteria. As long as you don't eat too much of resistant starches (1/4 cup is good) they won't spike your blood sugar and you won't gain weight.
"…Resistant starches, on the other hand, pass through your digestive system without being broken down; hence, they don't raise your blood sugar and insulin. Instead, resistant starches end up fermenting and feeding beneficial bacteria in your gut.
"Byproducts of this fermentation process in your gut are short-chain fatty acids that help reduce inflammation, improve immune function, normalize blood pressure and lower your risk of heart disease and heart attack.
"Short-chain fatty acids produced through fiber fermentation also serve as substrates for your liver to produce ketones that efficiently fuel your mitochondria and act as powerful metabolic signals, and science suggests resistant starch may play a role in the prevention of colon cancer and inflammatory bowel disease."
Dr. Mercola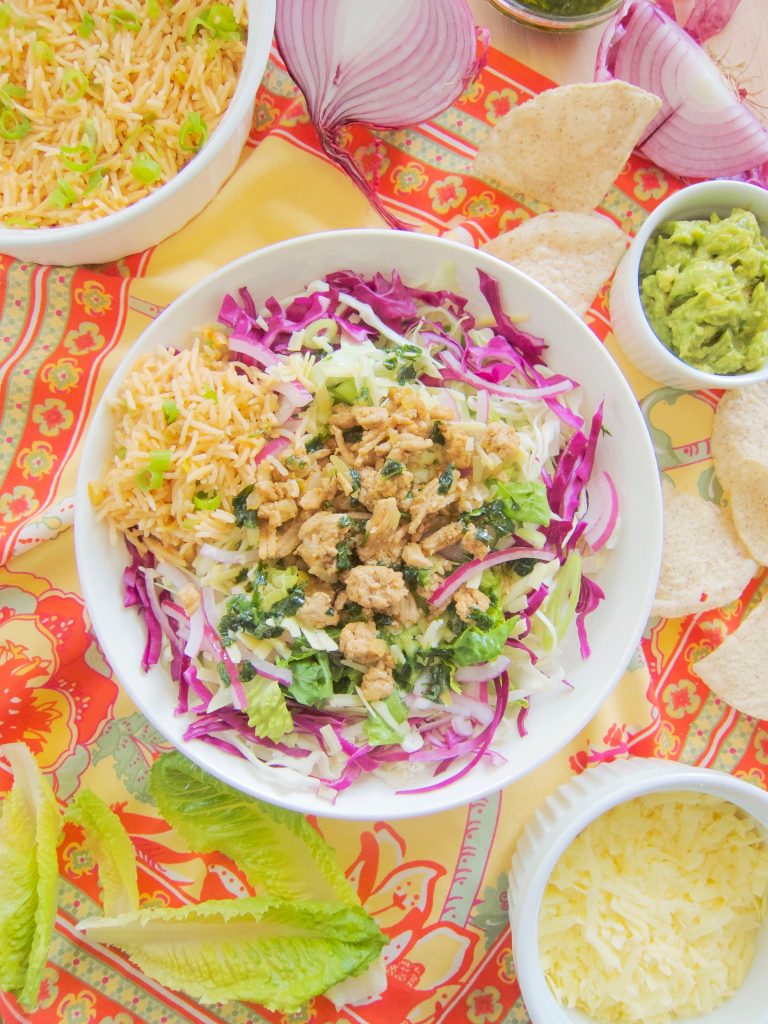 Taco Salad With Cilantro Dressing
Salad
Ingredients
Romaine lettuce, sliced
green and/or red (purple) cabbage, sliced
green onions, sliced
red onion, thinly sliced (you can pickle these for 15 minutes to make them easier to digest)
grated cheddar cheese
cold Spanish (Mexican) flavored white rice (opt., recipe below)
Instructions
Arrange the salad ingredients on a plate, sprinkling the cheese over the top. Add the warm taco meat mixture and drizzle with the cilantro dressing.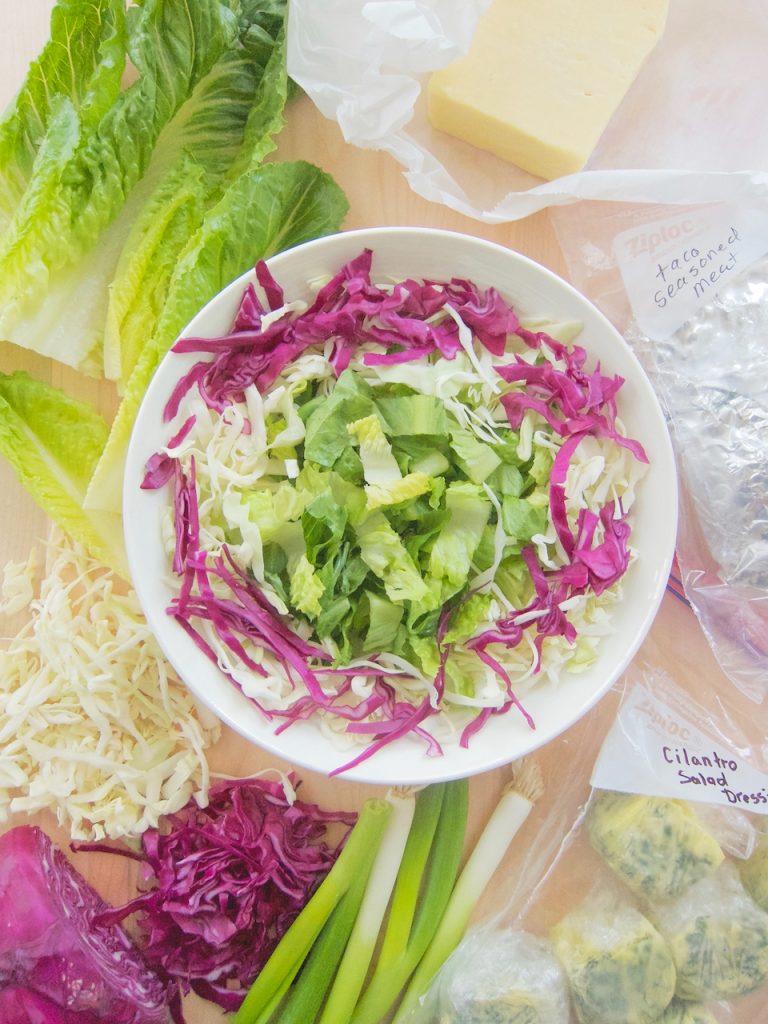 Taco Meat
Ingredients
1 pound ground dark turkey
1 teaspoon salt
4 teaspoons avocado oil divided
1 medium onion
2 cloves medium sized garlic
1 tablespoon packaged taco seasoning or Homemade Taco Seasoning (below)
1/2 cup water
2 tablespoons tomato paste
Instructions
Add half the oil to a heated skillet and add the meat, breaking it up into small pieces and sprinkle with the salt. Remove from the meat and add the remaining oil, the onion and garlic and cook these 5 minutes. Stir in the seasoning for 30 seconds. Add the cooked turkey meat, water, and tomato paste and simmer until the water is gone about 10 to 15 minutes.
This meat mixture can be frozen in individual packages to use later.
Cilantro Dressing
Ingredients
1 bunch (2 packed cups) cilantro, stems removed, chopped very small
1 clove garlic, minced
1 medium shallot, chopped fine
1/2 cup olive oil
2 tablespoons red or white wine vinegar
1 teaspoon salt
Instructions
Combine all ingredients and mix well. This dressing can be frozen in small packages to make individual servings at a later time.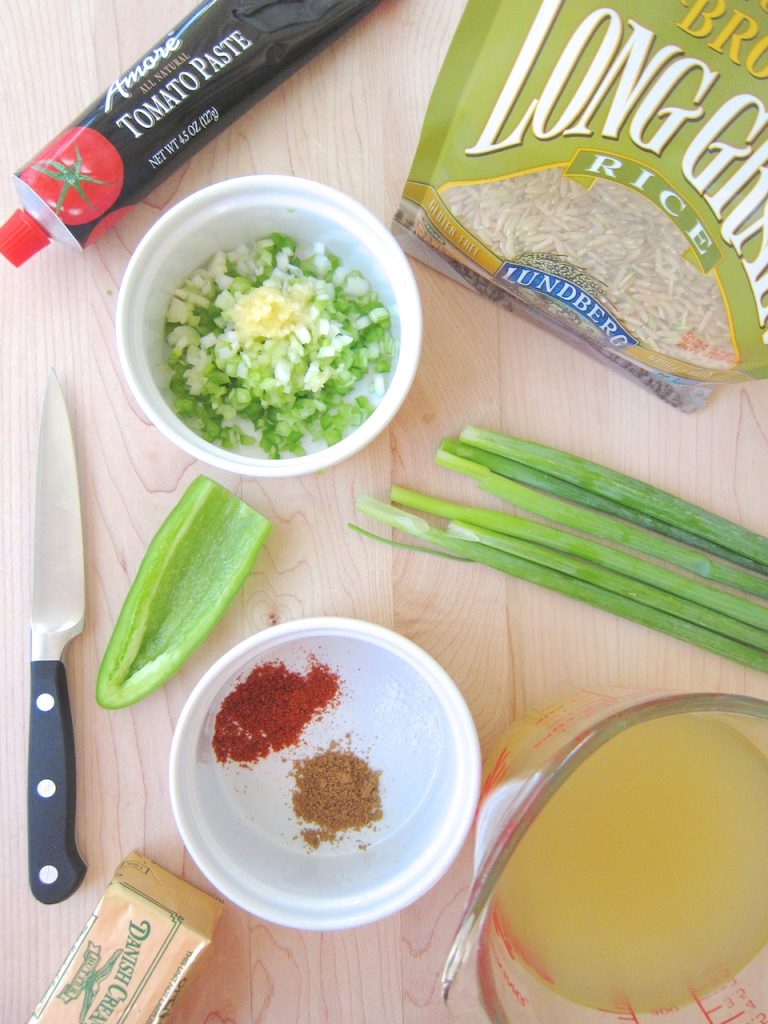 Spanish (Mexican) Rice
Ingredients
1 cup white rice (brown can be used but it has more lectins)
2 teaspoons butter
1/3 – 1/2 of a fresh jalapeño diced, finely diced
3 green onions
1 small garlic, minced
1/4 teaspoon cumin
1/4 teaspoon paprika
pinch of salt
about 1 can (1 3/4 cup) Swanson's Chicken Broth (use the amount of liquid called for on the rice package)
2 teaspoons tomato paste
Instructions
Thinly slice the white and light green part only of the green onions and put with the chopped jalapeño and garlic. Thinly slice the darker green onion tops and set them in a dish in the refrigerator. Melt butter in a saucepan with a tightly fitting lid. Add the green onion whites, jalapeño and garlic. Sauté for 3 minutes. Add the cumin, paprika and salt and sauté 15 seconds. Add the chicken broth and tomato paste. Stir until blended. Add the rice. Bring to boil, reduce heat, cover and cook according to the rice package directions (usually about 12 to 15 minutes). Do not disturb lid. Remove from heat, keeping tightly covered and lest rest for 10 minutes. Fluff rice with a fork. Sprinkle with reserved green tops.
Homemade Taco Seasoning
Recipe from https://www.familyfreshmeals.com/2013/05/diy-homemade-taco-seasoning.html
1 tablespoon chili powder
1 1/2 teaspoons cumin
1 teaspoon salt
1 teaspoon pepper
1/2 teaspoon oregano
1/2 teaspoon paprika
1/2 teaspoon garlic powder
1/4 teaspoon onion powder
Instructions
Mix all ingredients together.
For the taco salad with cilantro dressing, just use 1 tablespoon of this mixture.
(If you want to use this homemade taco seasoning recipe for tacos, brown 1 pound of ground dark turkey or beef and drain. Add the seasoning and cook one minute. Add 3/4 cup water and a tablespoon of double tomato paste in a tube. Simmer 10 minutes.)