Paleo Chicken Soup With Sweet Potatoes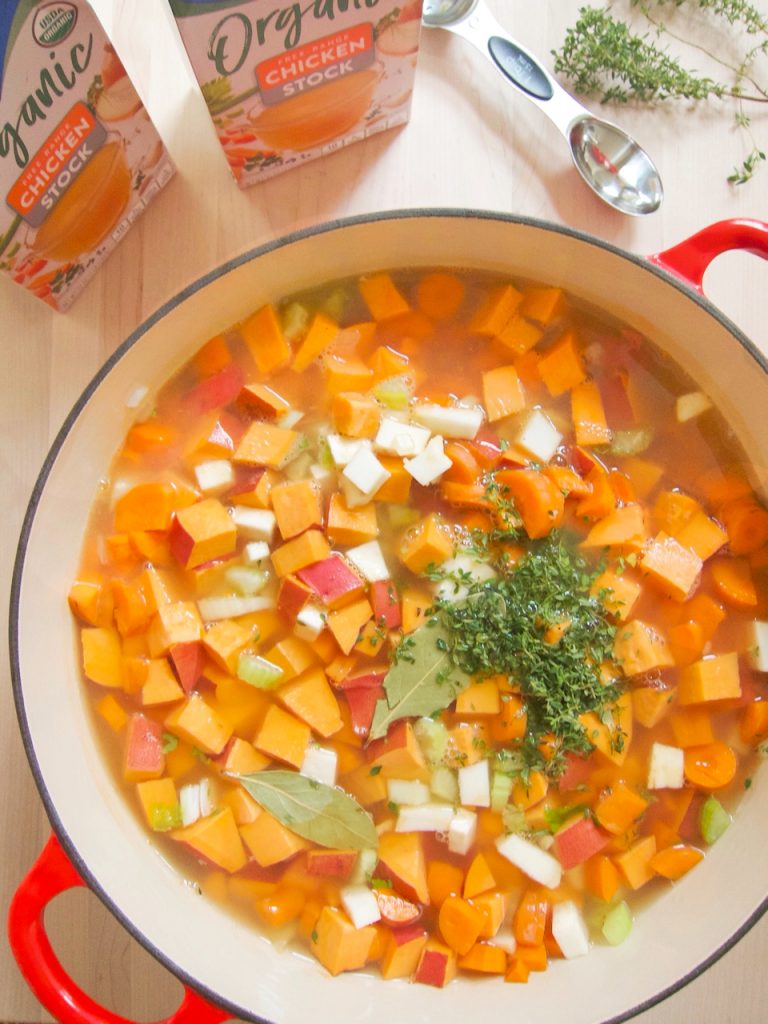 Paleo Chicken Soup With Sweet Potatoes
You can add additional amounts of the vegetables or celery root, turnips, parsnips, or rutabaga so make the soup more like a stew.
Ingredients
1 large yellow onion, diced (about 2 cups)
4 large cloves of garlic, minced
2 tablespoon butter
1 tablespoon avocado oil
7 ribs of celery, sliced in small pieces (about 5 cups)
1 pound carrots, sliced in small pieces (about 4 cups)
2 32 ounce Swanson's Organic Chicken Broth
2 sweet potatoes, cut off and peel blemishes and rough spots then cut in 3/4″ pieces (about 6 cups)
1 fresh rosemary sprig, leaves removed and minced (1 teaspoon) or the leaves of a few sprigs of fresh thyme (1 teaspoon)
1 large or 2 small bay leaves
salt to taste
1 large head of green curly kale, middle ribs removed, thinly sliced

Instructions

Before starting to cook, have all the vegetables cut up. and the chicken cooked and torn into pieces and in the refrigerator.

Prepare the chicken and while it's in the oven start the soup.

Heat the dutch oven. Add the butter and oil. Add the onions, celery and carrots and sauté them for around 5 minutes. Add garlic. Add the chicken stock, sweet potatoes, bay leaves and herbs. Bring to a boil and turn down heat and simmer 30 minutes or until the vegetables are tender.

While the soup is simmering tear the cooked chicken into small pieces and steam the kale for 7 minutes.

Remove the bay leaves and stir in the cooked chicken pieces and kale.

This can be frozen in canning jars. Leave a couple inches at the top to avoid the soup expanding and breaking the jars.