Lemon Muffins With Blueberries
This recipe is Elizabeth "Liz" Marek's Lemon Blueberry Muffin Recipe. What a find! I followed the recipe exactly except for using Simply Organic Lemon Flavor because I couldn't find extract, and I weighed the flour and the sugar. These are cross between muffins and cake and I loved the cake texture so much, I wanted to try it with different flavors like almond with raspberries, mango or peaches. Liz gives you a lot of ideas for other flavors on her website.
There's a reason why bakers don't use dry measuring cups and it's because the amount of flour can very up to 25% and the outcome of the recipe will be very different. She is experienced at baking and all her recipes give you the amounts for weighing everything and the measuring cup amounts but she tells you that she can't guarantee how something will come out if you use the cup amounts. I weighed the flour and sugar and the muffins were wonderful. But there were other things that needed to be done just right that are part of being a good baker.
Cooking is about chemistry. Having everything at room temperature means the sugar melts as it's creamed with the butter. And when eggs, butter, and other dairy ingredients are at room temperature they form an emulsion when they are mixed together that will trap air then during the cooking process the air expands and the texture ends up fluffy. Everything at room temperature also means the ingredients will blend together evenly and the bake goods will be uniform. Scraping down the bowl once or twice while adding ingredients is also about them being properly mixed and coming out all uniform looking.
Topping or dusting sugars are very popular on muffins in bakeries and restaurants. When you go shopping for a topping sugar you are going to notice that the crystals of some dusting sugars are very similar to regular sugar. You want to look for the bigger crystals. Demerara Sugar from Mauritius is a very nice topping sugar. It's a natural light brown sugar with larger crystals that don't stick together so they can be sprinkled. Wilton's Sprinkles White Sparkling Sugar also works well as a topping for muffins. The internet will tell you that you can substitute turbinado sugar for dusting sugar but some of them are very crunchy and don't work as a topping sugar.
Liz says to use Mise en Place which means have everything measured and ready before you start the recipe. I've found it to be much less stressful and you are less apt to make a mistake and again it effects the chemistry to not have the batter held up at a certain stage while you are preparing something like grating the lemon rind, especially once the baking powder is added and it activated.
Enjoy!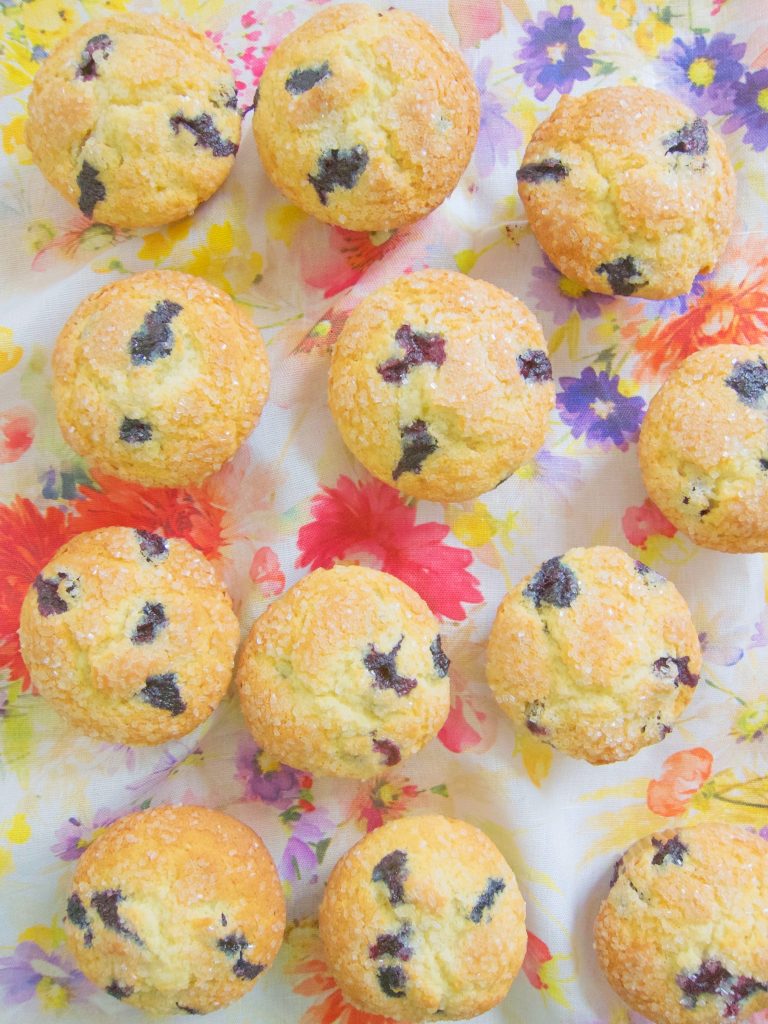 Lemon Muffins With Blueberries
Ingredients
4 ounces (1/2 cup) unsalted butter, soft
5 ounces (3/4 cup) sugar
1 large egg, room temperature
1 teaspoon lemon extract or Simply Organic Lemon Flavor
1 teaspoon vanilla extract
10 ounces (2 cups) cake flour
3 teaspoons baking powder
1 teaspoon baking soda
1/2 teaspoon fine salt
6 ounces (3/4 cup) buttermilk, room temperature
3 tablespoons large crystal topping sugars like Indian Tree Demerara Sugar from Mauritius or Wilton's Sprinkles White Sparkling Sugar
4 ounces (1 cup) fresh blueberries, room temperature
1 tablespoon grated lemon rind
Instructions
Preheat oven to 400 degrees.
Line a muffin tin with 12 paper liners. Place the flour, baking powder, baking soda and salt into a sieve over a bowl and shake. Cream the butter and sugar in a mixer using the paddle blade on medium for 8 minutes or until it's pale yellow and fluffy. Add the egg and extracts and mix another minute. Turn the mixer down to a slow setting and alternate 1/3 of the flour mixture with 1/3 of the buttermilk, back and forth ending with the last of the buttermilk. Remove the paddle and fold in the blueberries and grated lemon rind. Spoon the batter into the muffin pan and sprinkle with the topping sugar.
Liz says 15 to 20 minutes for baking. For my oven set at 400 I test the muffins at 17 minutes and they are perfect. To test them, the top bounces back when you press it gently with your finger. Every oven is different. If you know that your oven cooks hotter, test sooner.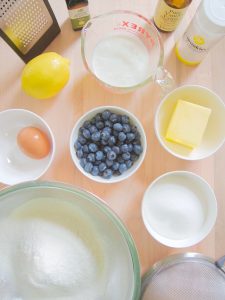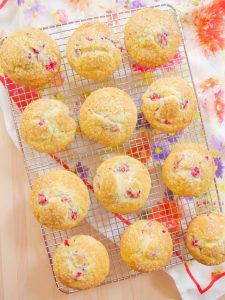 For almond teacakes with raspberries, substitute 1 1/2 teaspoon almond flavoring for the lemon extract and 1 cup of cut up cut up fresh raspberries and leave out the grated lemon rind.