Watching the Great British Baking Show inspired me to start making all the different kinds of breads and pastries, and doing it properly using a scale with the tare feature. I had only weighed the flour for my roll out cookies and gluten-free sandwich bread because it was so critical for those recipes, but I knew it was a really important thing I needed to be doing with all my recipes. After that show I watched Paul Hollywood's City Bakes which made me even more hungry for the good stuff and I couldn't wait to get started. For my first bread project I chose focaccia.
There are hundreds of ways to make focaccia that you can find on the internet. Some people like the tall version made in a 9 by 12 cake pan, while other like the shorter version and put their's in a baking sheet. Some use regular flour and some use bread flour. Some use active yeast, some use rapid yeast. Some use cool water, some use warm. Some recipes have you put the dough in the refrigerator overnight and bake it the next day to give it more flavor. And you have the choice between kneading and no knead. Then after you figure out which method you want to do, there's all the different kinds of toppings. Most of the recipes have rosemary. There is a charming authentic Italian recipe made by Italian Grandma, Mama Gina, where she stirs and folds the dough over itself using a rubber spatula in a wide bowl and there is no kneading on the counter and she adds cooked and mashed potatoes to regular or bread flour and has oregano, sun dried tomatoes and olives on the top.
So where do you start? Have you had focaccia somewhere that you really liked? I lived in LA a long time and I have fond memories of the legendary focaccia at Louise's Trattoria Italian restaurant on Montana Avenue in Santa Monica. It is the short version which is the only kind I've ever had. And I wanted to be able to do the focaccia art on top so I needed a recipe for a focaccia done in the large baking sheet.
The first recipe I tried was a dough that was kneaded using a mixer with a dough hook for part of the kneading and the whole thing was elegant, no sticky mess, but the texture was tougher than I was looking for and had way too many huge holes, and there was no flavor because it needed more salt. Next I did a recipe not using the mixer thinking maybe that had something to do with the texture, but then I was dealing with a sticky mess because you aren't supposed to add flour when you are kneading focaccia dough, and oil worked but it was not easy (a video of someone doing Paul Hollywood's recipe by hand. Note: There is only one sachet/packet of rapid rise yeast in his recipe). After these first experiments, I knew that I wanted to be able to combine the no sticky mess way to make the dough, and have the texture the way I wanted it, and a flavor that I liked. I love onion bread so that was going to be one of my flavors.
Paul Hollywood uses the rapid yeast and cool water. He is the expert and master of the right texture so that looked like the thing to try. I went back to the no sticky mess kneading recipe, changed those two things, and added more salt. Then there was something else Paul did in another video that he did for his foccacia that looked good. He did the rising in the pan (a 9″ by 13″ pan) that he was cooking the focaccia in and the only punching the dough back down after the first rise was making the dimples with his fingers down to the bottom of the pan, and sliding slivers of raw onion into the dough. After that there's was the second brief rise.
I also did some experimenting with types of olive oils which can have a very light taste to a very heavy one, and it makes a big difference in the flavor. You may like a stronger olive oil taste. I choose one right in the middle.
Putting all those different things together made a focaccia that was exactly what I was looking for and more than I expected. The irregular sized holes were smaller and the whole thing was light, moist and tender and there was the perfect amount of crunchiness to the outside of the crust, and, as a bonus, it was better the next day when I reheated it. I drizzled a little olive oil in a heated skillet that has a lid, put a piece of the bread in the skillet moving it around to get the oil all over the bottom and put the lid on. I kept an eye on it and after about 5 minutes, I took the lid off and turned the bread over and it was a beautiful golden brown that I knew it would pass Paul Hollywood's tap test. I took a bite and it was beyond good! My goal had been more than reached and I knew I was ready to move on to the next bread project.
There is a true focaccia texture which is uneven holes and a little tougher than normal bread. If Mama Gina's stir and fold over is the proper way to make focaccia, then mine is probably an Americanized version. That's okay. If you travel the world with Paul Hollywood's City Bakes, you see that breaking the rules has become a normal thing for everyone. They are all being very creative and are making a bread, pastry or dish their own way. At this point most of us don't know what the recipes were originally like and we'd have to research back through the changes to where the first recipe was made. The 'French fry' actually originated in Belgium so it's really Belgium fries and they were cooked in beef tallow. So, if history gets things a little mixed up and the recipe changes and we still call them 'French fries', I think it's okay to do focaccia the way you like it and still call it 'focaccia'. But I plan to go back in time and try Mama Gina's real thing soon.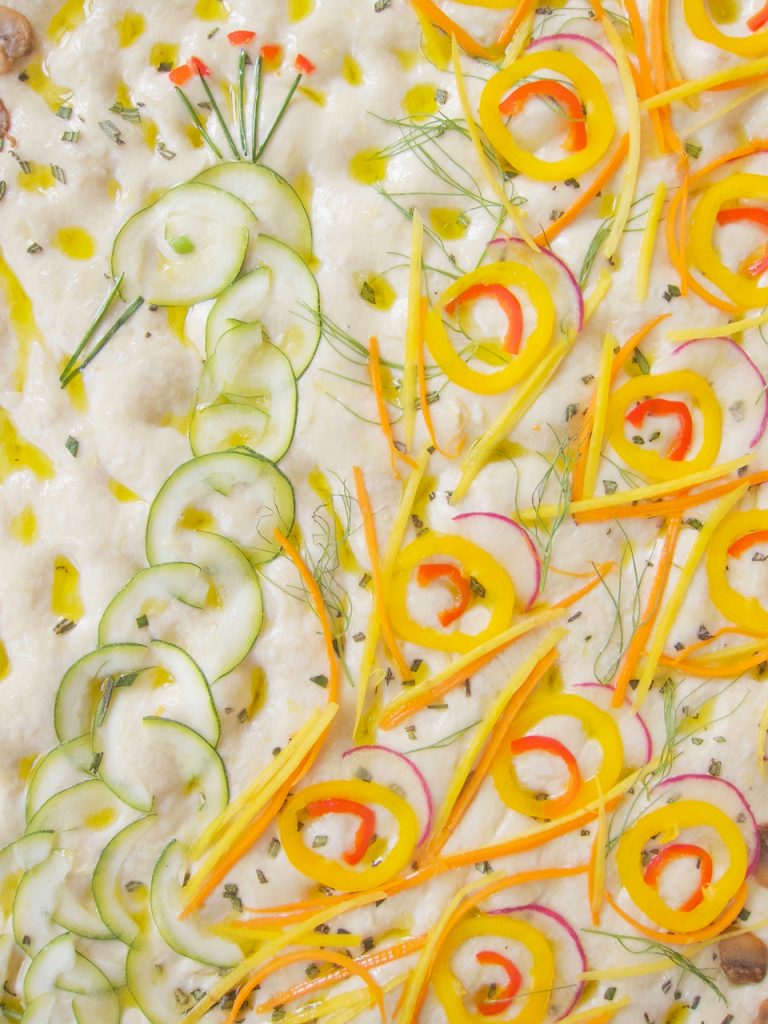 Focaccia Bread
Ingredients
24 ounces bread flour
2 teaspoons salt
1 packet (2 1/4 teaspoons) RapidRise instant yeast
1/4 cup olive oil (Some olive oils have too strong of an olive oil taste and other olive oils have very little taste. Bertolli's Extra Virgin Olive Oil works well)
2 cups cool water
1 onion (about 1 1/2 cups), cut in small pieces (opt.)
2 tablespoons fresh rosemary, cut fine
1 tablespoon plus 1 teaspoon flakey sea salt*
1 teaspoon dried oregano
more oil (about 3/4 cup less 3 tablespoons)

Note: I poured 1 cup of olive oil in a measuring cup and used it for the dough, for the oiling of the pastry mat and my hands and for sautéing the onions and for the herbed topping, then for the final drizzling, and when I was done there were 3 tablespoons left.
Instructions
Mise en Place (getting everything ready before starting):
You will need a standing mixer with a dough hook. Weigh the flour, add the salt and yeast and set aside. Measure the water. Measure the salt into a small container. Cut a piece of parchment paper to fit an approximately 12″ by 18″ baking sheet or jelly roll pan. Spread 1 tablespoon of oil on the surface (I use a large pastry mat on the counter) where you will be kneading the dough.
Pour 1 cup of the water and scoop one cup of the flour mixture into the mixer bowl. Turn the mixer on low for a minute. (You can start with the paddle attachment for the mixing and switch to the dough hook for the kneading like some recipes say but it works fine just using the hook and scraping down the sides.) Scape down the sides and add the remaining water, the 1/4 cup of olive oil and half of the flour mixture and turn on low until combined. Scrape down the bowl again and add the remaining flour. Knead in the mixer on low for 3 minutes. Then using oiled hands turn the dough onto the oiled surface and knead for about 1 to 2 minutes or until it's starting to get too sticky. At this point it will pass the bounce back test when you press into it (see video at 40 seconds).
Wash your hands and put a little more oil on the surface and on you hands. You're going to stretch the dough into a rectangle that is as large as the baking sheet. I use a rolling pin because it makes the dough even. It should give you only a little resistance because you haven't worked the gluten up a lot. Then transfer the dough to the baking sheet that is lined with the parchment and press the dough it up to the corners and sides. Seal the baking sheet with plastic wrap tucking it under so it's not resting on the dough, and let the dough rise until double in bulk, approximately 2 1/2 – 3 hours depending on how warm your house is.
While the dough is rising, cut the rosemary and put it in a small bowl and add the oregano and 1/4 cup of olive oil.
If using, sauté the onion pieces in a tablespoon of oil for about 15 minutes or until they are starting to brown.
Measure the topping salt that you will be sprinkling on the focaccia before it goes in the over.
*Note: The salt on the top is a a matter of preference. You may want a different amount and you may want to use a different kind. I like Maldon's Sea Salt Flakes, but because it has larger flakes that can be too salty, I crush it very gently with a rolling pin to break up the big pieces, being careful not to turn it into table salt sized crystals. I've see recipes where they use regular table salt and if you do this use less. Mortons Kosher salt is also an option. Other kosher salts like Whole Foods 365 can have larger crystals.
When the dough has doubled, drizzle with the herbed oil and spread it evenly over the dough. Then make dozens of dimples all over the dough with your fingers pushing all the way down to the bottom of the pan. If you are using onions, sprinkle those evenly over the top. Cover with plastic wrap again and let rise again until doubled. I do the second rise in the oven. I turn it on to start to preheat and turn it off right away and put the pan in. It will rise in 30 minutes that way. Sprinkle with the flakey salt mixture. If you are decorating the focaccia, do that now.
Bake in a 425 degree oven for 18 to 20 minutes until light golden brown. Drizzle with more oil olive.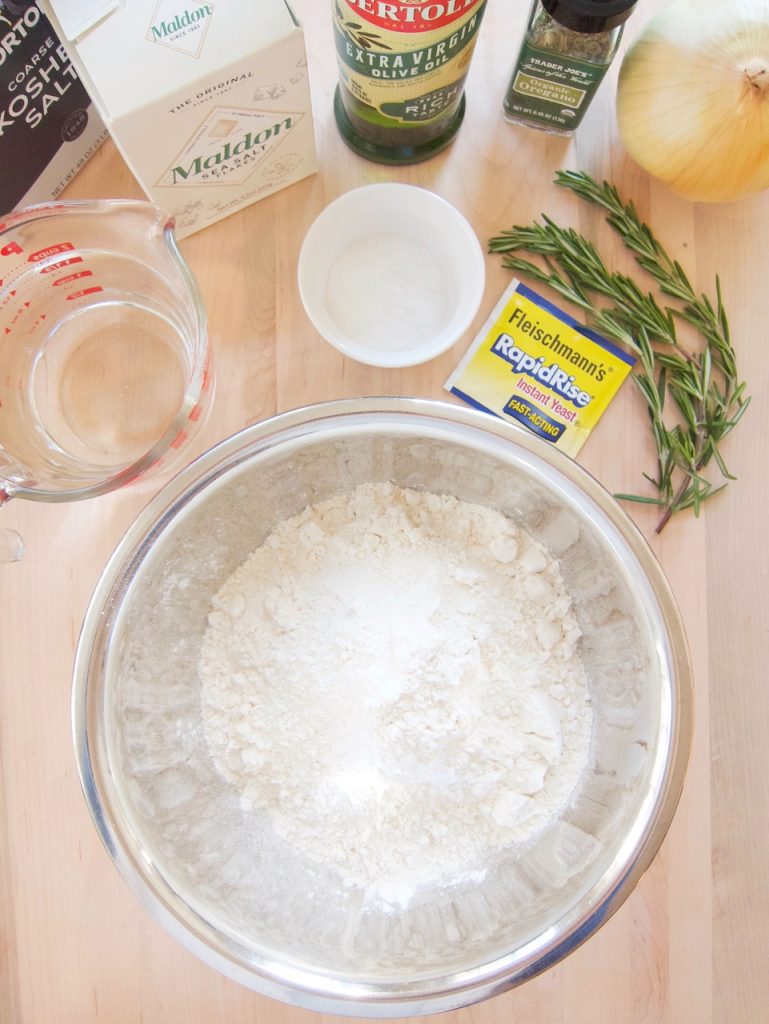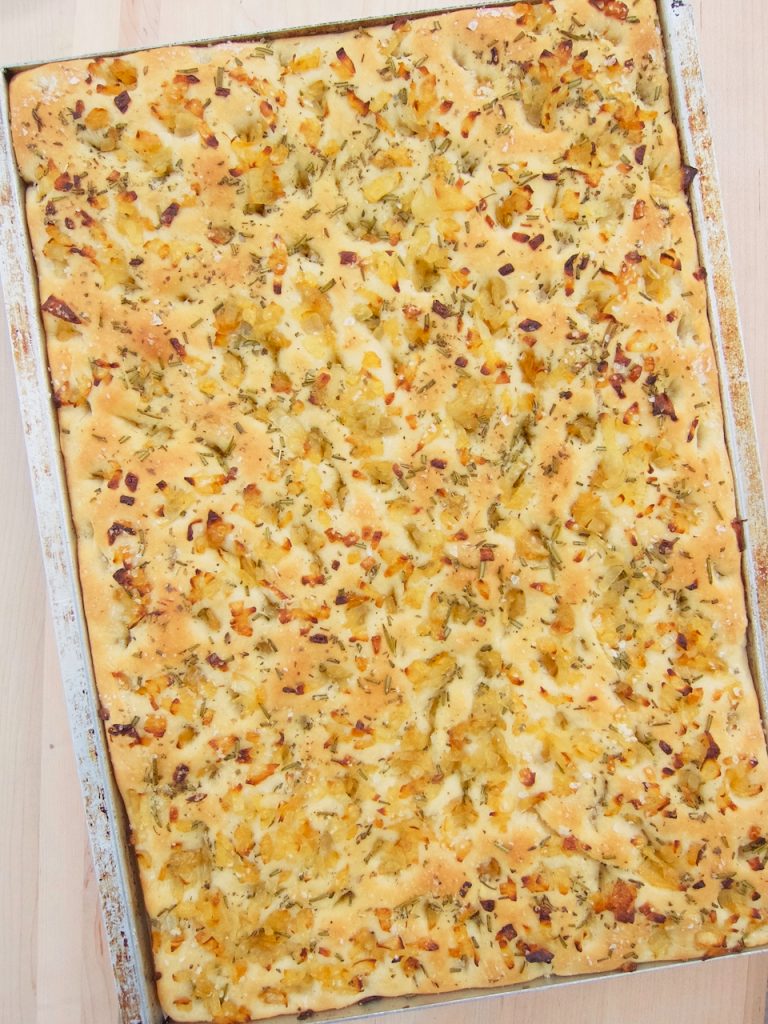 If decorating the focaccia bread, slice the vegetables very thinly. I used zucchini which I had slice in half lengthwise then removed the seeds and then sliced very thin. I julienned carrots and sliced small sweet peppers. Then I sautéed mushrooms with some garlic in a little oil until they started to brown. And there are a few fennel fronds in there.