When you are making a list of what you are looking forward to in the fall, the beautiful fall leaves come first and then, apple cider donuts.
I'd been looking for a recipe for baked apple cider donuts hoping they would be almost as good as the deep fried if that was possible. I found a recipe done by Savory in the Giant holiday hand out at the check stand. I loved that it had dark brown sugar and I loved all the spices that they put in their recipe. Our Whole Foods carries Country Acres (delicious) Freshly Pressed Organic Apple Cider and I picked up a jug and went home to make the donuts.
When my taster team checked them out, we all loved them but felt they were a little sweet for us and I had thought the batter was a little runny when I was piping it. I've also made a few tweaks to how the ingredients were put together in the original recipe that I felt made it easier.
As far as comparing them to the deep fried version, the sugar coating is giving it sort of the same crunchy feeling and we were very happy with them.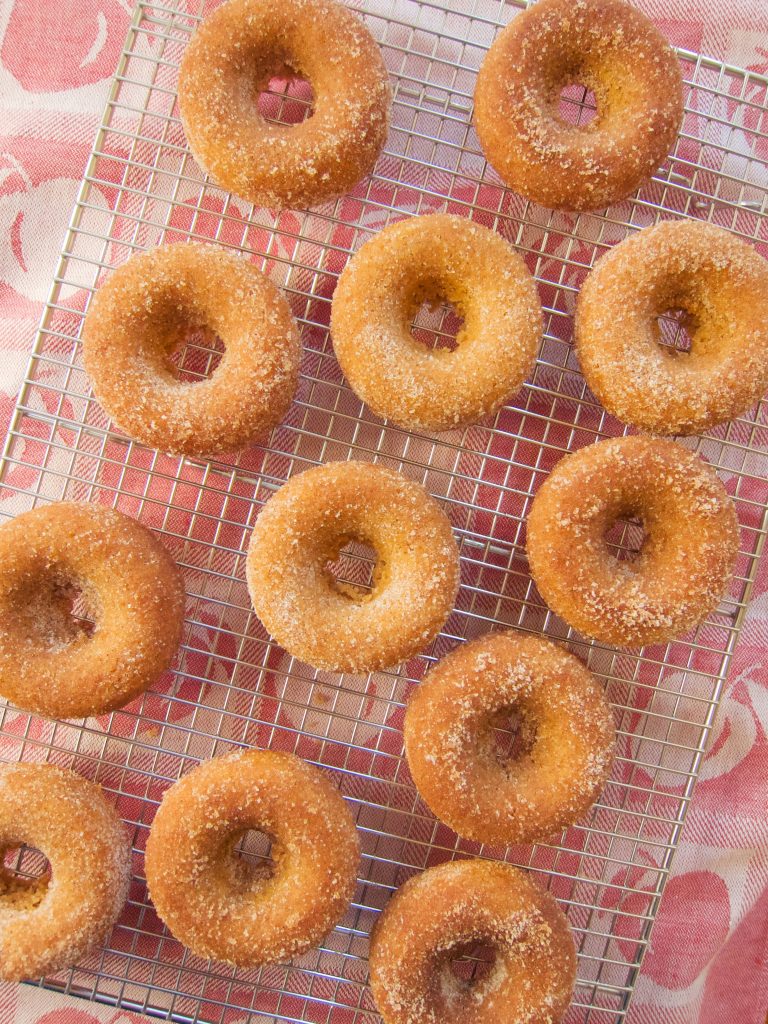 Baked Apple Cider Donuts
Donut Ingredients
1 1/2 cups fresh apple cider
4 teaspoons cinnamon
1/2 teaspoon nutmeg
1/8 teaspoon ground cloves
7 ounces (about 1 1/3 cups) flour
1 1/4 teaspoons baking powder
1/2 teaspoon salt
1/2 cups milk
1 large egg
1/3 cup sugar
1/2 cup packed dark brown sugar
1 teaspoon vanilla
4 tablespoons butter, melted and cooled
Sugar Coating Ingredients
6 tablespoons butter, melted
1/2 cup sugar
reserved spices
Instructions
This makes 12 regular sized donuts so you are going to bake them in two batches, buttering the donut pan each time.
Heat the cider in a small saucepan and bring to boil and reduce down to 1/2 cup, and cool.
Mix together the cinnamon, nutmeg and cloves. Set aside 1 1/2 teaspoons for the sugar coating.
Mix the flour, baking powder, salt and spices in a large mixing bowl. Mix the milk, egg, the two sugars, vanilla, melted butter and cooled reduced apple cider in another bowl. Combine the dry and wet ingredients just until just combined.
Note: If you want to be certain your donuts are the same size, I recommend dividing the batter in half.
Pour the batter into a large zip lock bag. (It's helpful to put the bag in a bowl to hold it open.) Cut a 1/2″ opening in the corner of the bag and pipe the batter into the prepared pan about 2/3's full.
Bake in a 350 degree oven for 12 – 14 minutes or until it is a little brown around the edges and bounces back when you press it with your finger. Let cool 5 minutes and flip over onto a wire rack. If the hole in the middle is covered with dough take a sharp knife and cut out the extra in the middle so there are holes.
For the coating, melt the 6 tablespoons butter in a small pan and mix the sugar and spices in a wide bowl. When the donuts are cool, brush them all over with the butter and dip in the sugar mixture or sprinkle it on, whichever works for you.