Cranberry and Pear Bread Pudding With Orange Custard Sauce
Fresh cranberries are very tart and in desserts they create a uniquely bitter sweet taste that is very Christmas, especially if paired with orange. This recipe started with a recipe in an old magazine that I'd cut out and put in my scrapbook. It called for cinnamon bread with raisins which I changed to brioche, cinnamon and currants.
If you are serving this as soon as it's cooked, you'll want to make the custard sauce first so it has time to chill. The sauce can be made 3 days ahead and kept refrigerated.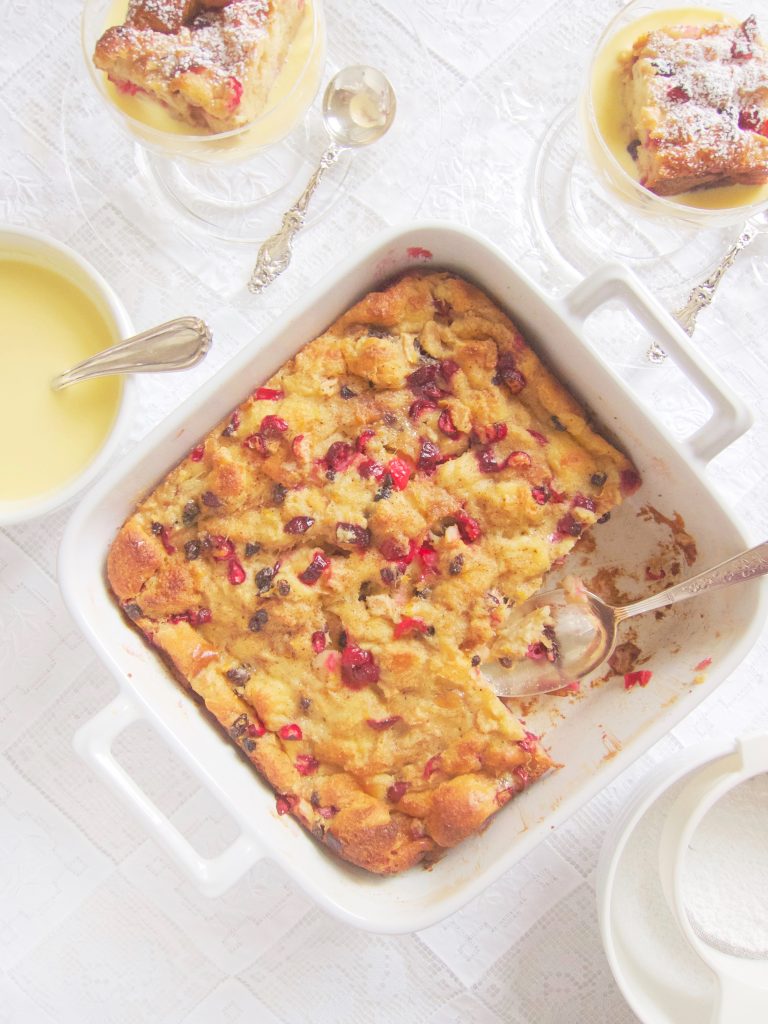 Cranberry and Pear Bread Pudding
Ingredients
1 loaf (about 14 – 16 ounces) brioche bread, cut into 1″ squares
3 cups half and half
3 large eggs
3/4 cups sugar
1 teaspoon cinnamon
4 teaspoons grated orange rind
1 tablespoon vanilla
1 cup coarsely chopped fresh cranberries
1 cup coarsely chopped peeled pears
1/3 cup currants
1/4 teaspoon nutmeg
powdered sugar
Instructions
Butter a 9″ by 9″ baking dish.
Spread the bread squares on a baking sheet and toast in a 350 degree oven for 5 minutes, stir them, then toast for 5 minutes more. Let cool. Pour the half and half over them and gently stir to coat. Let stand 30 minutes.
Mix the sugar and cinnamon. Put the eggs, sugar mixture, orange rind and vanilla in a bowl. When the 30 minutes is up, whisk the egg mixture, stir in the cranberries, pears and currants. Pour this mixture over the bread mixture and gently fold them together. Spoon the mixture into the prepared baking dish, sprinkle with the nutmeg and bake in a 350 degree oven for 55 to 60 minutes until set and lightly browned. Let cool at least 10 minutes.
To serve, spoon some custard sauce (recipe below) on a small plate or in a bowl. Cut a 3″ square of the pudding using a knife and place it in the custard. Sprinkle with powdered sugar using a small sieve.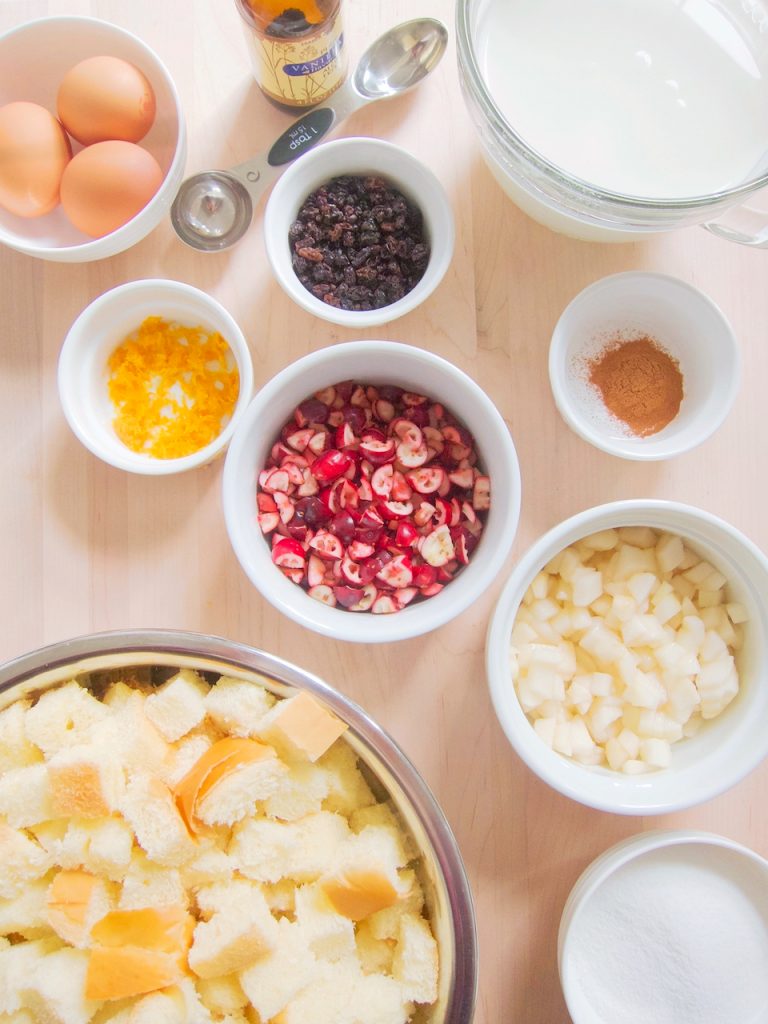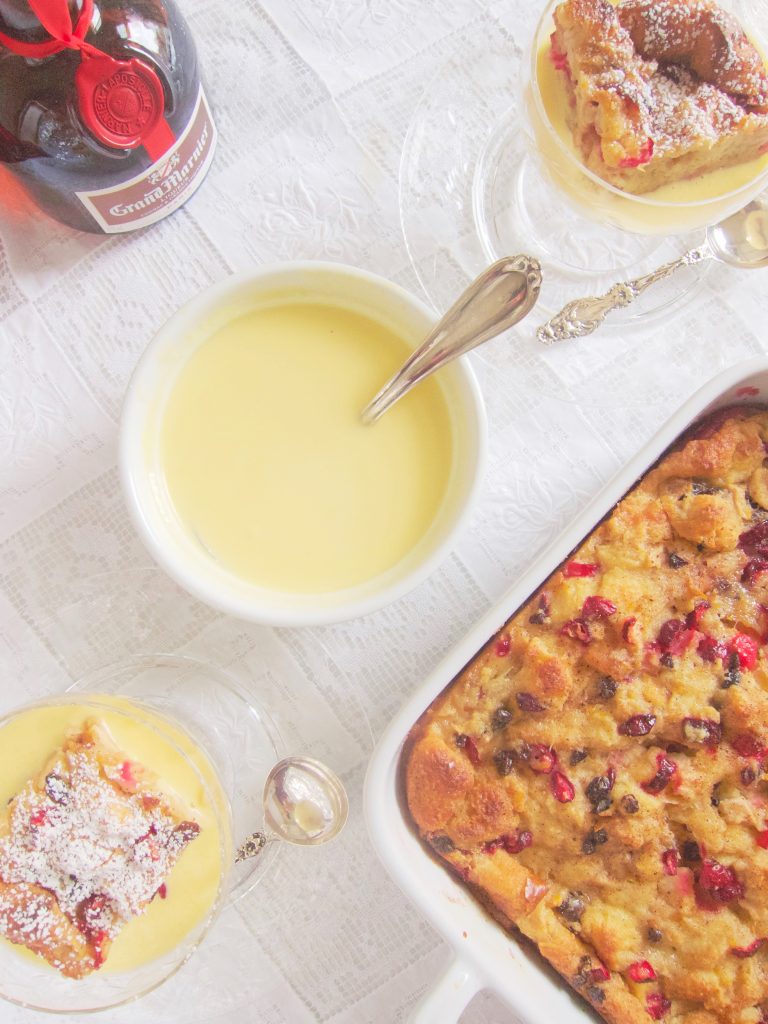 Custard Sauce
Ingredients
1 cup milk
3/4 cup whipping cream
5 large egg yolks
1/3 cup sugar
1/2 teaspoon vanilla or seeds from a 2″ piece of vanilla bean plus the pod
3 tablespoons Grand Marnier or other orange liqueur
Instructions
Bring milk and cream to a low simmer in a heavy sauce pan. Whisk the egg yolks and sugar in a bowl and slowing ladle the hot milk mixture into the yolk mixture as you continue to whisk. Once you have half the milk mixture in the egg mixture, pour the egg mixture into the milk mixture on the stove and continue cooking, adding the vanilla bean seeds and the pod if you are using, stirring with a wooden spoon until the custard coat the back of the spoon and when you run your finger down the spoon it leaves a path that stays there when you tilt the spoon. Poor the custard through a sieve into a bowl. If you are using vanilla extract, add that now along with the Grand Marnier. Let cool, cover and refrigerate until cold, about 2 hours.