Chicken Ballottine With Broccoli and Chicken Mousse
If you don't already know how to debone a chicken, there are great youtube videos that can teach you. After looking at several of them where the chefs and butchers were just using a knife, I saw Jacque Pepin's method where a lot of the meat was being removed from the carcass by pulling it off rather than cutting which seemed much simpler. There's also a video where he does his deboning method on the Rachel Ray show that is a lot of fun. And on her site you will find the recipe for his spinach, cheese and cubed bread stuffing.
After performing this hundreds of times, Jacque knows the anatomy of a chicken so well he is able to debone a it in 1 minute, and his hands are very strong making it look easy. Don't be discouraged. He's a master, what he calls a "craftsman", one who has learned the techniques and can do them without thinking having repeated them over and over "ad nauseam", but you can do it too. After watching him do it a few times, get your chicken out and follow along with him stopping the video so you can catch up. I didn't have any trouble my first time and I think it was because his video is so detailed and well done because he is a very good teacher. You just have to be sure to follow him carefully. It took me 25 minutes and I'll probably get a little faster but we're not on TV so there's really no rush.
There are a lot of stuffing recipes for chicken ballottine. The recipe below was the one my mother used in her cooking classes.
This dish is good with roasted sweet potatoes.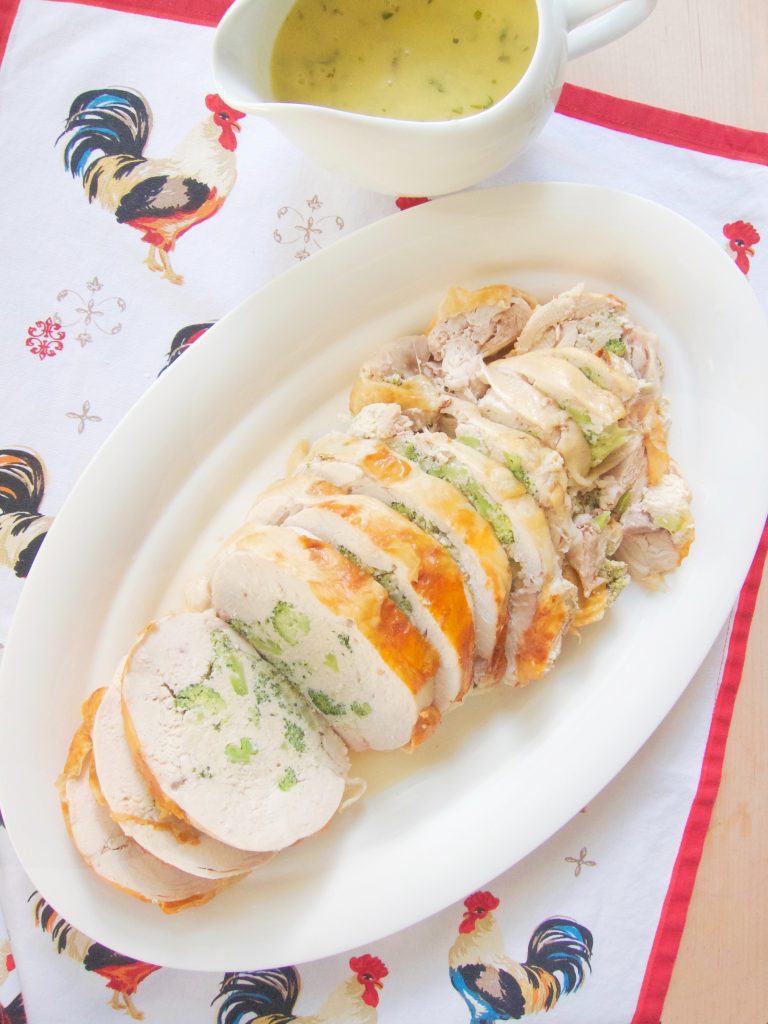 Chicken Ballottine with Broccoli and Chicken Mousse
Ingredients
5 pound whole chicken, deboned
2 tablespoons brandy or cognac
salt
2 (8 ounce) chicken breasts, cut up in chunks
2 egg whites
1 1/2 teaspoons fresh chopped tarragon
1 teaspoon salt
1/2 teaspoon white pepper
3/4 cup heavy cream
3 cups broccoli florets
2 tablespoons butter
Instructions
Follow Jacque Pepin's video to debone the chicken, then put it in the refrigerator while you prepare the filling.
For the mousse, place the chicken chucks in a food processor and process about 5 seconds or until the chucks are all broken and starting to become smooth. Add the whites and seasonings and process a few seconds. While the processor is running, add the cream and run about 5 seconds more. Remove the mousse to a small container.
Blanche the broccoli in a pot of water for 3 1/2 minutes.
Lay the chicken skin side down on the board and sprinkle it with salt and then drizzle the brandy over it. Next lay the broccoli florets on the meat and spread the mousse over the broccoli.
Jacque Pepin does not use as much filling as this recipe has, and he was able to just fold the two sides over and tie the chicken up with string and it stayed together. For this recipe, you will need to sew up the seam with a needle and thread (leaving a long piece at the end so you can find it easily) before following his instruction for the tying.
Melt the butter in a heavy skillet. Roll the ballottine in the butter and roast in a 375 degree oven for 1 hour and 20 minutes or until the internal temperature reaches 165 degrees. Let rest ten minutes, remove the string by cutting in several places, and the thread by grabbing the long piece and pulling it straight out, and slice.
Serve with this tarragon sauce or béarnaise sauce.
Tarragon Sauce
Ingredients
1/2 cup butter
1 tablespoon minced fresh tarragon
1 cup chicken broth
1 1/2 tablespoons flour or rice flour
Instructions
Melt the butter and add the tarragon and let cook one minute. Put the chicken broth and the flour in a jar with a lid and shake it. When the minute is up pour in the chicken broth mixture and bring to a boil and boil a few minutes.