Grain-Free Lasagna With Italian Braised Beef Ragu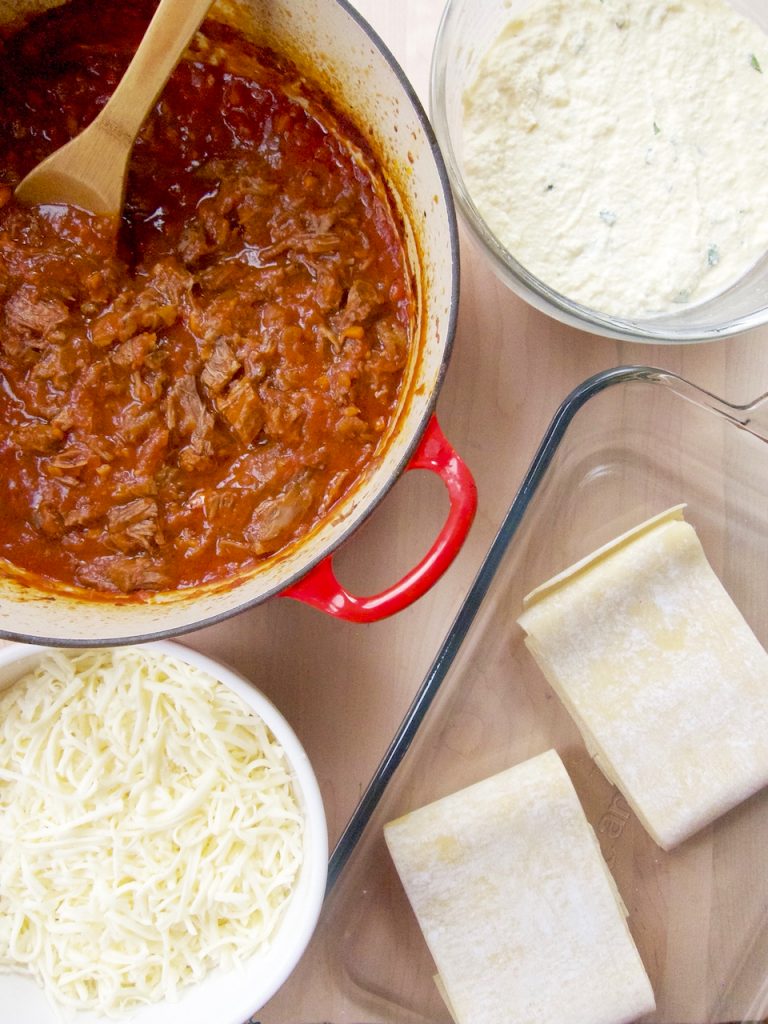 Grain-Free Lasagna With Braised Beef Ragu
braised beef ragu (recipe below)
2 cups ricotta cheese
1 tablespoon chopped Italian parsley
1 egg
1/3 cup grated Parmigiano-Reggiano (24 month aged parmesan) cheese (more for the top)
1/3 cup grated Pecorino Romano cheese (more for the top)
1/8 teaspoon nutmeg
4 cups grated mozzarella cheese, divided
16 ounces grain-free, gluten-free or regular lasagna noodles (For grain-free use 2 boxes of Cappelo's Grain-Free Almond Flour Lasagna Sheets (9 ounces each). They are in the freezer department at Whole Foods. These do not need to be pre-cooked.)
chiffonade of basil leaves
Instructions
Make the ragu. If the noodles need to be cooked, follow the directions on the back of the package.
Place the ricotta, parsley, eggs, cheeses, and nutmeg in a bowl and mix together.
You are going to layer the ragu, noodles, ricotta mixture, and mozzarella in a 15″ by 10″ casserole.
Assembly
Quick reference:
1st layer: 1/3 (approximately 2 cups) of meat sauce
2nd layer: lasagna noodles
3rd layer: ricotta cheese mixture
4th layer: 1/2 of the mozzarella
5th layer: lasagna noodles
6th layer: 1/3 meat sauce
7th layer: lasagna noodles
8th layer: remaining 1/3 of meat sauce
Cover the casserole with foil and bake in a 375 degree oven for 30 minutes, remove the foil, sprinkle with the remaining mozzarella cheese and sprinkle 1/4 cup each of Parmigiano-Reggiano and Pecorino Romano cheese, and bake another 15 minutes uncovered. Distribute some chiffonade of fresh basil leaves over the top. Let rest 10 minutes.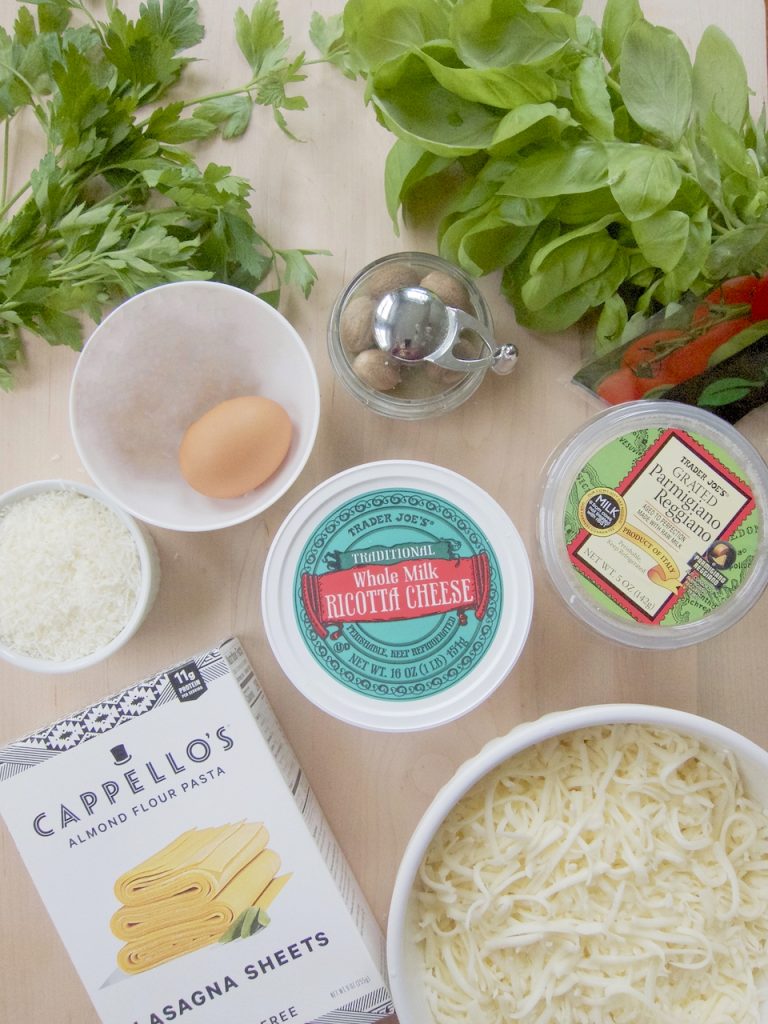 Italian Braised Beef Ragu
Ingredients
2 1/2 pound chuck roast
1 teaspoon salt
1/2 teaspoon pepper
1 1/2 tablespoons avocado oil
1 tablespoon butter
1 cup onion, cut small
1/2 cup celery, cut small
1/2 cup carrots, cut small
1 clove of garlic, minced
1 tablespoon tomato paste
1/2 cup Cabernet Sauvignon or other dry red wine (optional)
1 24 ounce bottle passata (tomato puree)
1/2 cup water (if not using wine, make this 3/4 cup)
1 teaspoon Italian seasoning
Instructions
Heat a large dutch oven. Rinse the roast and dry with paper towels. Rub all over with the salt and pepper. Add the oil to the dutch oven and sear the roast on all sides. Remove the roast and add the butter. When the butter has melted add the onion, celery and carrots (mirepoix) and cook 3 minutes. Stir in the tomato paste and garlic. If using, add the wine and let it cook down for 2 minutes. Stir in the passata tomato puree, water and the Italian seasoning. Bring to a boil, add the roast, seal the pot with foil and place the lid on top of the foil. Bake in a 275 degree oven for 3 hours. Remove the lid and let rest 10 minutes. Shred the roast into small pieces using forks. You will have approximately 6 cups of ragu.