Mango, Peach and Tomato Salad With Lime Marinated Salmon
Technically, 'pan-seared' means you are getting a piece of meat nicely browned over high heat to add flavor and seal in the juices before you continue cooking it in the oven. But today you will find hundreds of recipes online for pan-seared salmon that is all done in a skillet on the stove. It's a technique for imitating 'grilled salmon' served in restaurants and it's fast, easy and wonderful.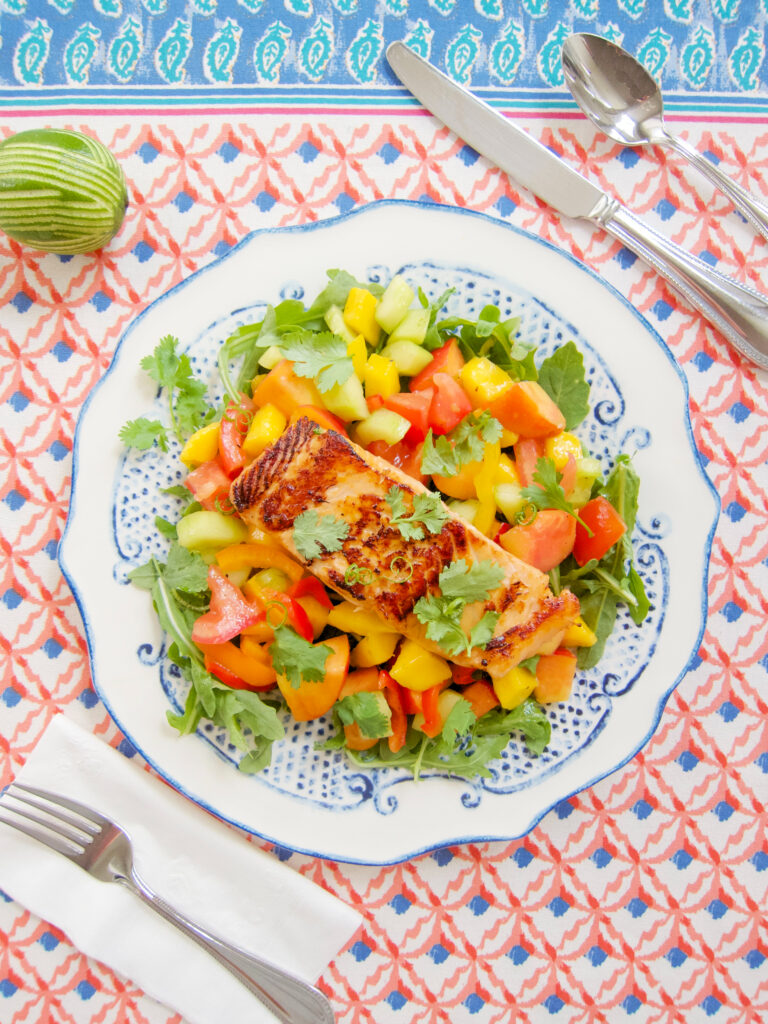 Mango, Peach and Tomato Salad With Lime Marinaded Salmon
Ingredients
You want to end up with 8 cups of fruit and vegetables, 2 cups per serving.
1 large or 2 small mangoes
1 large or 2 small peaches
1/2 each yellow, orange and red bell peppers
1 large tomato, seeded
1 cucumber, pealed and seeded
arugula or your preferred lettuce
Lime Marinaded Salmon (recipe below)
Lime and Ginger Dressing (recipe below)
cilantro leaves
lime zest curls, using a zester
Instructions
Cut up fruit and vegetables and drizzle with 1/2 of the Lime and Ginger Dressing. Toss to coat and let marinade for 30 minutes.
Arrange a bed of arugula or other lettuce on a plate. Toss the fruit and vegetables to recoat with the dressing. Spread 2 cups of the fruit and vegetables over the lettuce. Place a salmon filet on top. Sprinkle with some cilantro leaves and lime zest curls. Pour the remaining dressing in a small bowl and serve with the salads for anyone who wants more.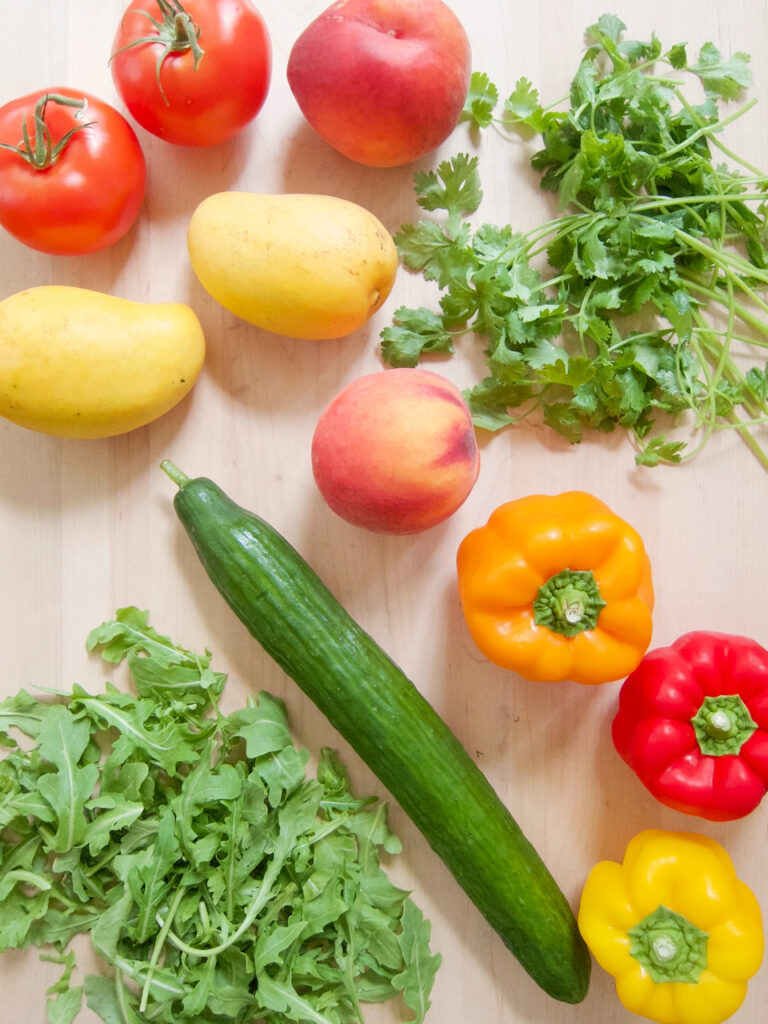 Lime Marinaded Salmon
Ingredients
1 1/4 to 1 1/2 pounds salmon, cut into 6 filets, skin removed
1/4 cup lime juice
2 tablespoons maple syrup
1 tablespoon Coconut Secret Coconut Aminos
1 teaspoon lime zest
salt
Instructions
Mix the lime juice, maple syrup, Coconut Aminos, zest and pour into a zip lock bag. Add the salmon and marinade for 2 hours. Remove from the marinade and pat dry with paper towels and set on a plate at room temperature for 30 minutes. Arrange the lettuce on 4 plates and spoon the fruits and vegetable mixer over them. Lay a salmon filet over each one and top with cilantro leaves and lime zest curls.
To pan sear the salmon, heat a skillet over medium high (not as high as you set it for steaks). Drizzle the heated skillet with avocado oil and swirl the pan. Sprinkle the salmon with salt on both sides. Transfer the salmon to the pan placing it top side down. For 1″ thick filets, let sear for 4 minutes without moving the fish. Flip over and cook the second side for 4 minutes. This will cook the fish all the way through and it's still very tender. Adjust the time if you prefer it less cooked.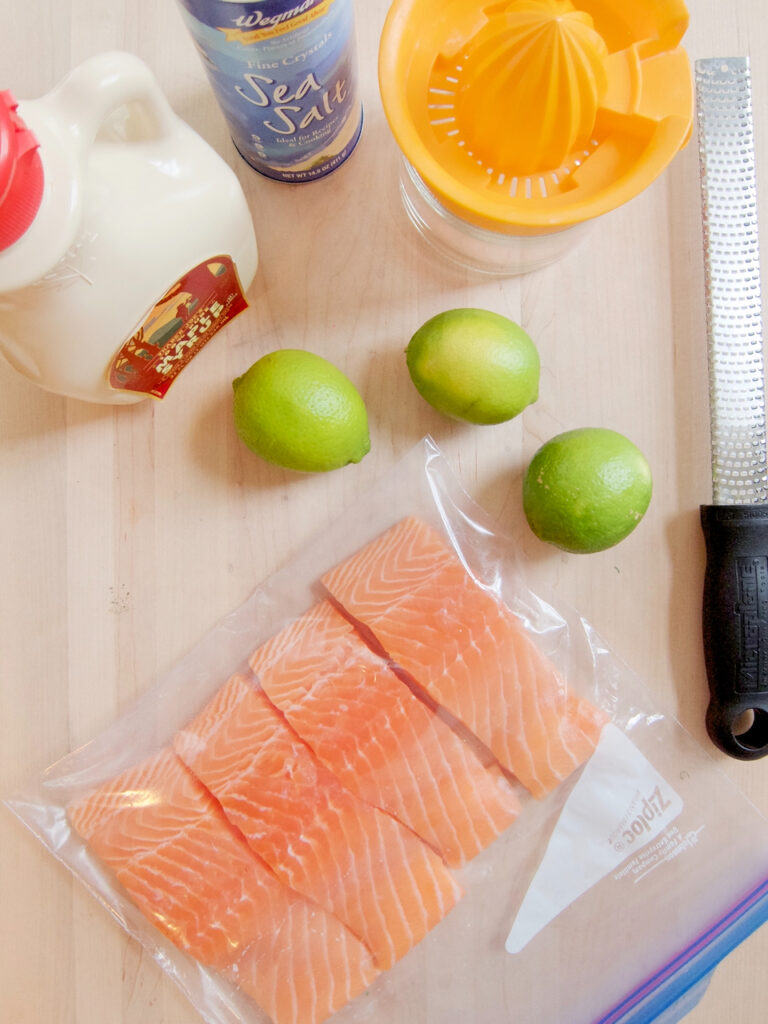 Lime and Ginger Dressing
Ingredients
1/2 cup olive oil
1/4 cup plus 2 tablespoons lime juice
2 teaspoons lime zest using a microplane, lightly packed
2 teaspoons maple syrup
2 tablespoons minced, seeded jalapeño (or to taste)
1 teaspoon minced fresh ginger
1 teaspoon minced garlic
3/4 teaspoon salt
1/2 teaspoon pepper
Instructions
Place all ingredients in a jar with a lid and shake until well blended.