Taco Stuffed Zucchini Boats
Adapted from Chef John's Taco-Stuffed Zucchini Boats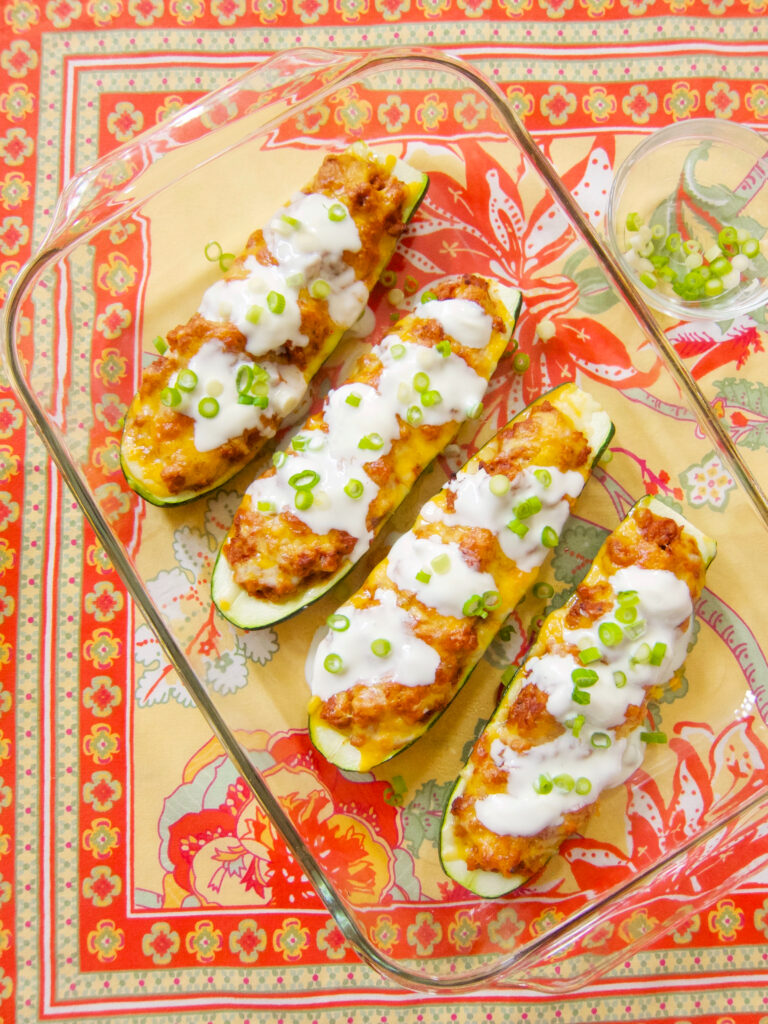 Taco Stuffed Zucchini Boats
*This is enough meat for 6 boats but I wanted to make 4 and used the rest of the meat for taco salads.
Ingredients
1 tablespoon chili powder
1 1/2 teaspoons cumin
1 teaspoon salt
1 teaspoon pepper
1/2 teaspoon paprika
1/2 teaspoon oregano
1/2 teaspoon garlic powder
1/4 teaspoon onion powder
1 tablespoon avocado oil
2/3 cup onion, diced
1 (4 ounce) can mild chopped green chiles
1 pound ground turkey
1 (8 ounce can) tomato sauce
2 tablespoons tomato paste
6 large zucchini*
1 1/2 cups grated cheddar and jack cheese or any Mexican cheese mix
sour cream
sliced green onions
Instructions
Measure the spices into a small dish and set aside.
Slice the zucchini lengthwise and use a spoon or melon baller to scape out the center and create the boats. Sprinkle generously with salt and let sit 15 to 20 minutes.
Heat a skillet and add the oil, then the onions and cook until the onions turn translucent. Add the turkey breaking it up into small pieces and cook until pink is gone, about 5 minutes.
Sprinkle the meat with the spices and stir in. Cook 1 minute.
Stir in the tomato sauce, tomato paste and chilies. Reduce heat and simmer 10 minutes. Remove from heat.
Preheat oven to 400° and line a baking sheet with parchment.
Dry the zucchini boats with paper towels and set them on the prepared baking sheet. Fill each one with as much taco meat as will fit. Sprinkle with the cheese. Bake for 20 minutes. The cheese should start to brown and the zucchini should be crisp tender.
Serve with sour cream and sliced green onions.