What Makes a Really Healthy Salad?
What makes a really healthy salad? It might not be what you think. One size doesn't fit all. And this is because of allergies and sensitivities to vegetables and fruit that you are told are loaded with nutrition. And they are, but your body may not like them. You could also have a blood sugar imbalance and need to stay away from the sweeter fruits which also have good nutrition, like bananas. Fructose is being found to be the worst sugar for a person with blood sugar balance problems.
My son Craig is extremely sensitive to the lectins in cucumbers and pomegranates. You can also have trouble with something and then you do okay with it. My daughter Rosemary had trouble with tomatoes, which also have lectins, but she's okay with them now. I can't go near the delicious salad dressings with Dijon mustard. Again lectins. Lectins protect plants. They are in its peel and seeds. The nightshades vegetable group are full of lectins. Strawberries have their seeds on the outside. I can't eat those either. Lectins are also found in grains like rice and oats.
If you are having stomach issues and you think you are eating healthy, you made need to take a deeper look at your diet and figure out what exactly is making your gut unhappy. Cheese made with cow milk is often a problem. But goat and sheep cheese are fine. You may be able to eat cooked onions but not raw. Some foods will make you feel bad and there may be no reason for it that you will be able to figure out.
If you would like to do an experiment and see if it works for you, there is a reset program where you remove all the potentially problematic foods for 30 days and then reintroduce them one at a time. A paleo diet works well for this. The longer you do the reset, the more you will notice your sensitivities and hopefully end all or at least some of your problems.
There are other things like not eating too much, not eating the same thing two days in a row, and not eating meals and snacks too close to each other.
I'm fine with this salad. It's healthy for me but you may need to leave some of the ingredients out or replace them with something that you know is okay. And that's how it works when you get to the end of the project. You don't have to avoid a recipe, just tweak it and make it your own.
If you really want to know what's healthy for you or your family, there's very interesting information out there. As I was working on this for myself, I collected some of the interesting things I'd found on a healthy gut for the Microbiome Rainbow Salads and Smoothies post. The salads and smoothies in this post are great for a reset diet.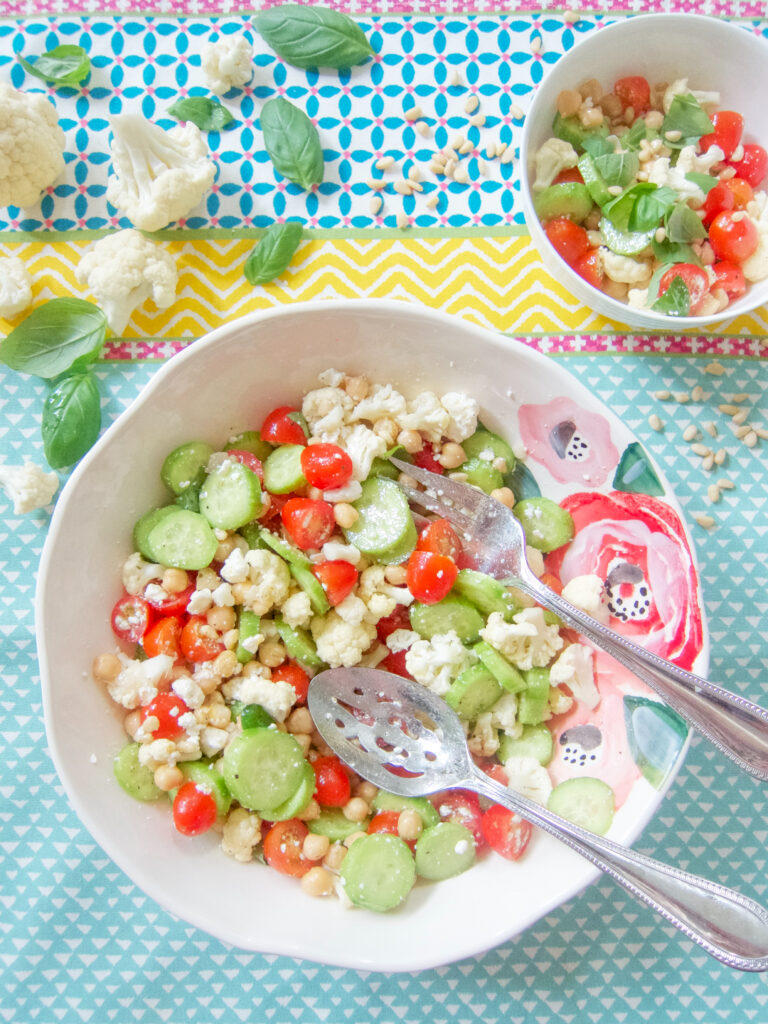 Calico Cauliflower Salad
Ingredients
Use any amounts of these that you like to make the amount you need.
2 cups cauliflower, cut in small florets
1 15 ounce can garbanzo beans, drained and rinsed
3 small cucumbers, peeled and sliced
1 1/2 cups grape or cherry tomatoes, cut in half
3/4 cup crumbled feta cheese
1/4 cup pine nuts
torn basil leaves
Olive Oil and Balsamic Vinegar Dressing (below)
Instructions
Place the first 6 ingredients in a large bowl and toss. Add the dressing and toss. Transfer to serving bowls and sprinkle with a lot of torn basil leaves and some more pine nuts.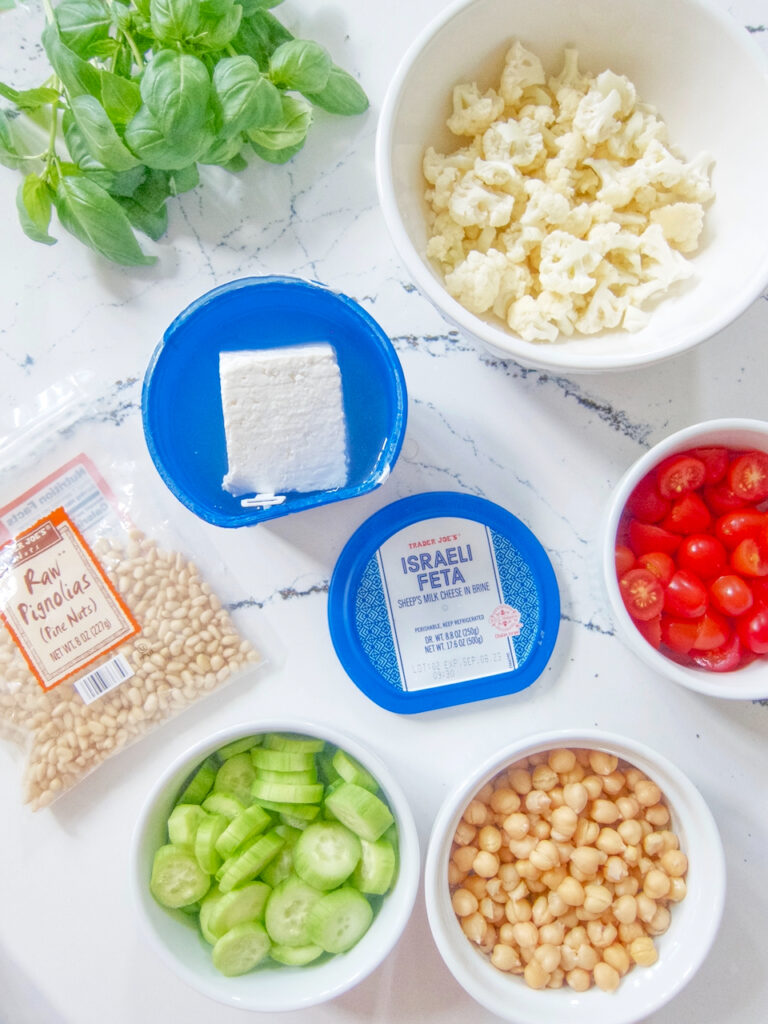 Olive Oil and Vinegar Dressing
Ingredients
1/3 cup light olive oil
3 tablespoons white balsamic or white wine vinegar
1/2 teaspoon salt
1/2 teaspoon pepper
Instructions
Put ingredients in a jar with a lid and shake.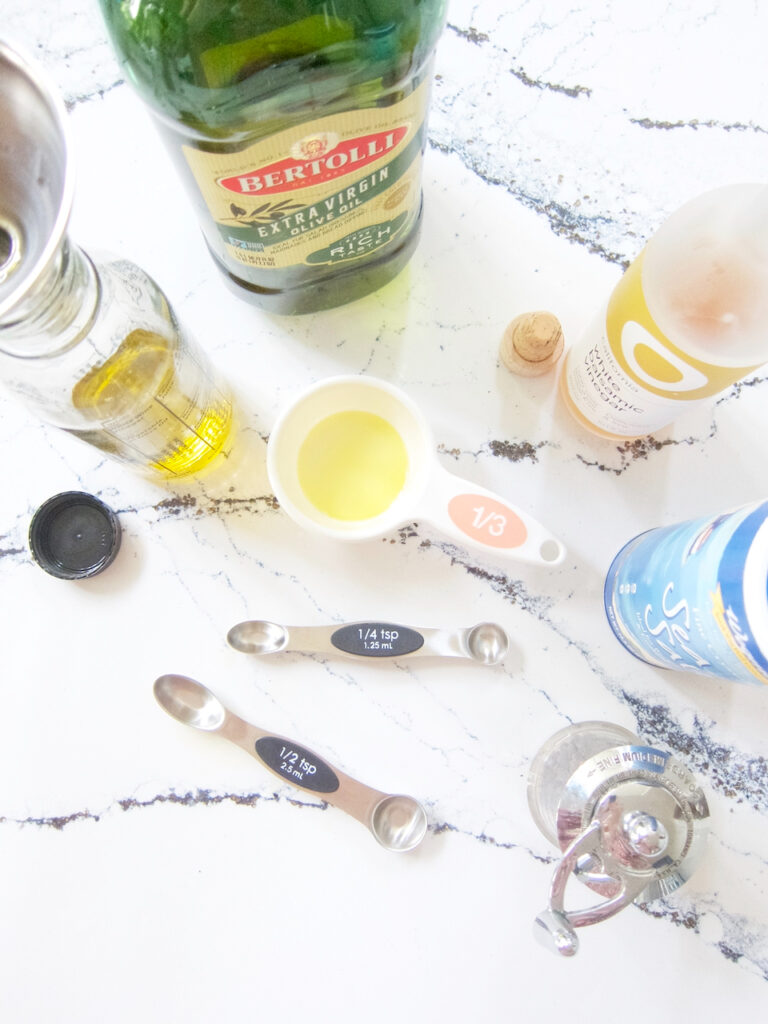 See also: Salads and Main Course Salads
If there is an ingredient in a salad that you aren't eating or can't eat, leave it out or substitute it with something else. For instance, if you are not eating grains and a recipe calls for rice, you can try substituting it with raw cauliflower rice and see if you like it.