Not eating gluten? Not eating grains? Not a problem!
Serve your favorite Italian dishes on baked, roasted, sautéed or steamed vegetables.
Grain-Free Chicken Parmesan
Lasagna Spaghetti Boats
Chicken, Broccoli and Pesto Spaghetti Boats
Bolognese Sauce on Vegetable 'Noodles'
Keto Pasta Primavera and Meatballs
Meatballs Alla Bolognese and Roasted Sweet Potato 'Noodles'
Vegetable 'Spaghetti' and Meatballs
Cauliflower Pizza Crust
Pizza With Zucchini Crust
In Italy "alla cacciatora refers to a meal prepared 'hunter-style' with onions, herbs, usually tomatoes, often bell peppers, and sometimes wine."
Wikipedia
This is a classic Italian dish and all the regions in Italy have their own recipe for it. There are so many options that you can make the dish different dozens of times to find your favorite. You can use bone-in thighs with skin (draining some of the fat after browning and using the remaining fat for the vegetables). Southern Italy uses red wine but northern Italian chefs may use white instead of red. Other options are flouring the chicken before browning, using a dry vermouth, canned plum tomatoes, drained and chopped, some chili pepper, chicken stock, fresh basil, fresh oregano, fresh thyme, fresh rosemary, bay leaf, green, black or kalamata olives and capers. There's also rabbit cacciatore and salami cacciatore.
Wikipedia
France's cuisine has a hunter's chicken called chicken chasseur. The primary ingredients in France's hunter's chicken are "sautéed chicken and a reduced chasseur sauce prepared using tomatoes, mushrooms, onions, white wine, brandy and tarragon." There are no sweet peppers in the French version and the primary herb is tarragon, and "additional spices and seasonings can include marjoram, thyme, bay leaf". It is garnished with parsley and croutons instead of the rustic bread.
Wikipedia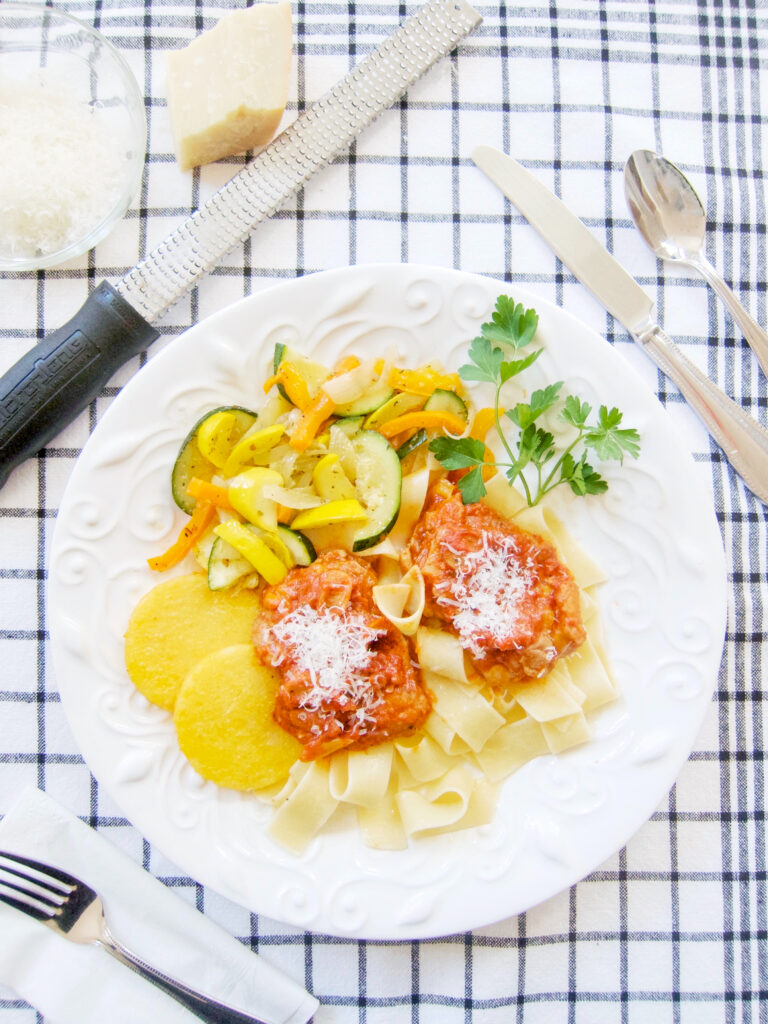 Chicken Cacciatore
Ingredients
12 boneless, skinless chicken thighs
salt and pepper
3 tablespoons butter, divided
2 tablespoons avocado oil, divided
1 small onion, cut small
8 ounces mushrooms, sliced
1/4 cup carrots, finely minced
1 (about 1 1/2 cups) orange or red sweet pepper, cut in slivers
1 (about 1 1/2 cups) yellow sweet pepper, cut in slivers
4 tablespoons tomato paste
4 garlic cloves
4 teaspoons Italian seasoning
2/3 cup Cabernet Sauvignon
1 28 ounce can diced or crushed tomatoes
1/4 cup tomato sauce
fresh parsley for garnish
grated Parmigiano Reggiano or Manchego cheese
Instructions
Trim the unwanted fat and tendons from the chicken (kitchen shears work well for this). Sprinkle both sides with salt and pepper. Heat a skillet that has a lid to the temperature that will brown your chicken. Add 2 tablespoons butter and 1 tablespoon oil. Add 6 of the thighs and sear both sides for 3 to 4 minutes. Transfer to a plate and add 1 tablespoon each of butter and oil and cook the remaining 6 thighs and set aside.
Add the onions, mushrooms and carrots to the pan, adding a little more oil if needed. Sauté until juices are released and have almost dried up. Add the peppers and sauté 5 more minutes.
Stir in the tomato paste, garlic and Italian seasoning. Then stir in the wine, tomatoes, tomato paste and tomato sauce. Bring to a boil, turn heat down, cover and simmer for 45 minutes.
Sprinkle with parsley and cheese.
In Italy chicken cacciatore is served with rustic bread. You can also serve it with rice, pasta or polenta.