Lamb Loin Chops With Mint Jelly
You can cook delicious steaks and chops indoors once you learn how from the right person. My son Craig has mastered doing them on the grill outside but because it's cold and rainy in Virginia a lot, he mastered doing them inside too.
You know when someone really knows there stuff when they can gauge rare, medium and well done by using the push the meat down with your finger trick. It's great for when the steaks or chops are different sizes and for when everyone wants their's cooked differently. He showed me the trick, but that's going to take awhile so for the moment I'm relying on a meat thermometer (which works quite well!).
One of the best ways to cook steaks and chops inside is to use an oven-proof, heavy weight stainless steel skillet, a meat thermometer that will go in the oven with a readout on the counter, and a pair of tongs.
Lamb chops were something special when I was growing up. I only had them at a restaurant once or twice a year during our family vacations driving from Los Angeles to destinations up the California coast. The restaurant served it grilled with the bright green mint jelly.
"The Palace Arms at the unsinkable Brown Palace was serving 'Spring lamb' with mint sauce on New Year's Day 1883 — less than five months after the hotel opened for business. The Colorado restaurant in Boulder was roasting leg of lamb and offering it with mint jelly to that town's elite five years after the turn of the last century. And before World War I, seemingly every eatery in the West worth its salt offered mutton or lamb with mint jelly."
westword.com
It's a fond memory I have never forgotten.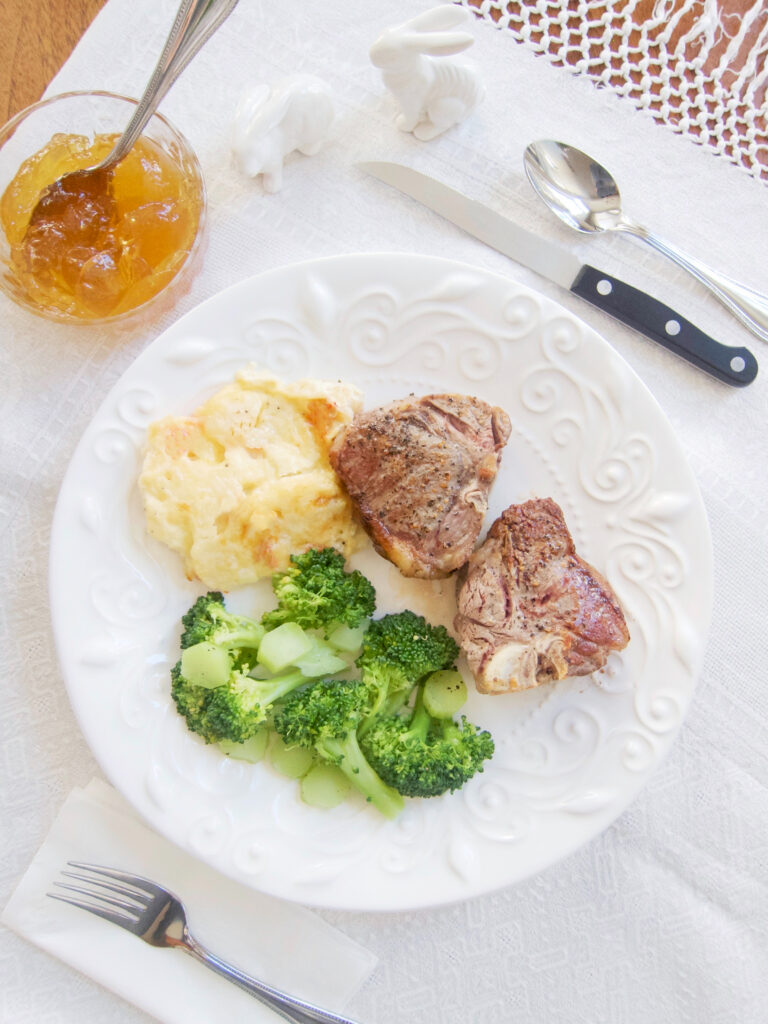 Lamb Loin Chops With Mint Jelly
Ingredients
1 1/2 – 2″ thick lamb loin chops
salt
pepper
mint jelly (Whole Foods carries Mrs. Miller's Homemade Mint Jelly which has no corn syrup or artificial coloring.)
Instructions
Salt and pepper the chops and bring them to room temperature (about 45 minutes).
Preheat the oven to 450°.
Heat a heavy duty stainless steel skillet on medium high. Don't let it get too hot or the lamb fat will smoke. Place the lamb loin chops on their sides, fat side down. Let the fat melt for about 30 seconds and then lay them down in the fat. Sear each side for 2 minutes.
Place the meat thermometer probe in one of them and set the skillet in the oven. Bake until the thermometer reads 145° for medium (very pink but not rare), or 150° for medium, or 155° for mostly well done (with very little pink). It should take 8 to 10 minutes. Watch them carefully. The temperature rises very quickly towards the end.
Let rest at least 2 minutes. You can eat these plain like a steak or with the mint jelly.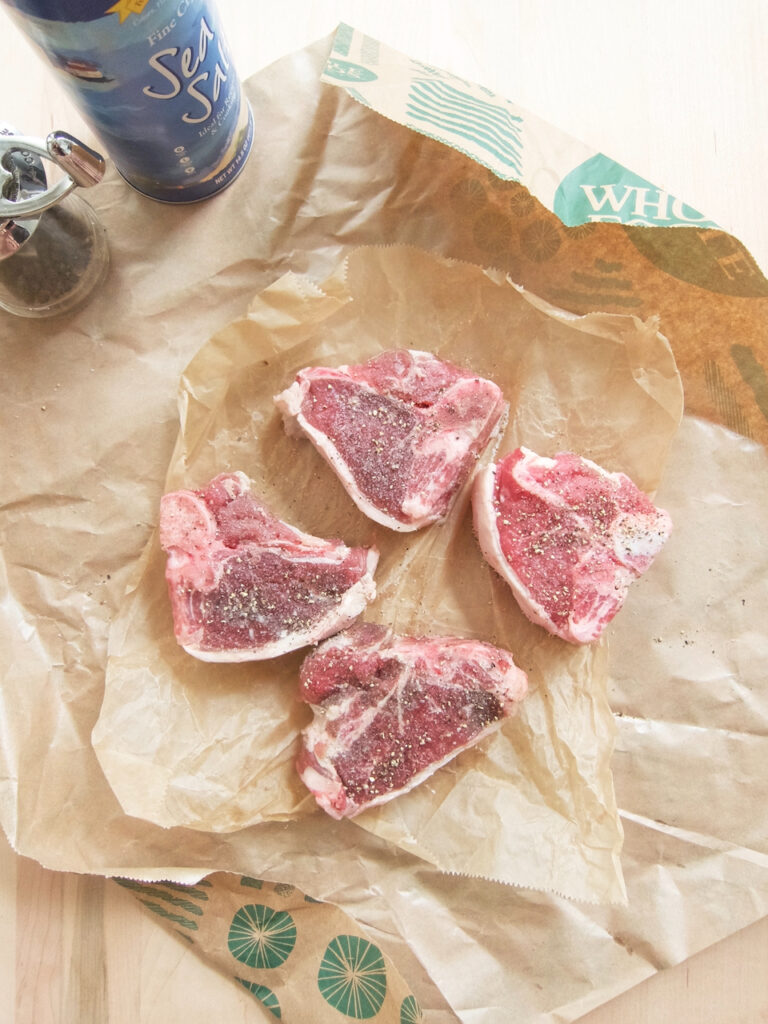 Mrs. Miller's Homemade Mint Jelly has no corn syrup or artificial coloring.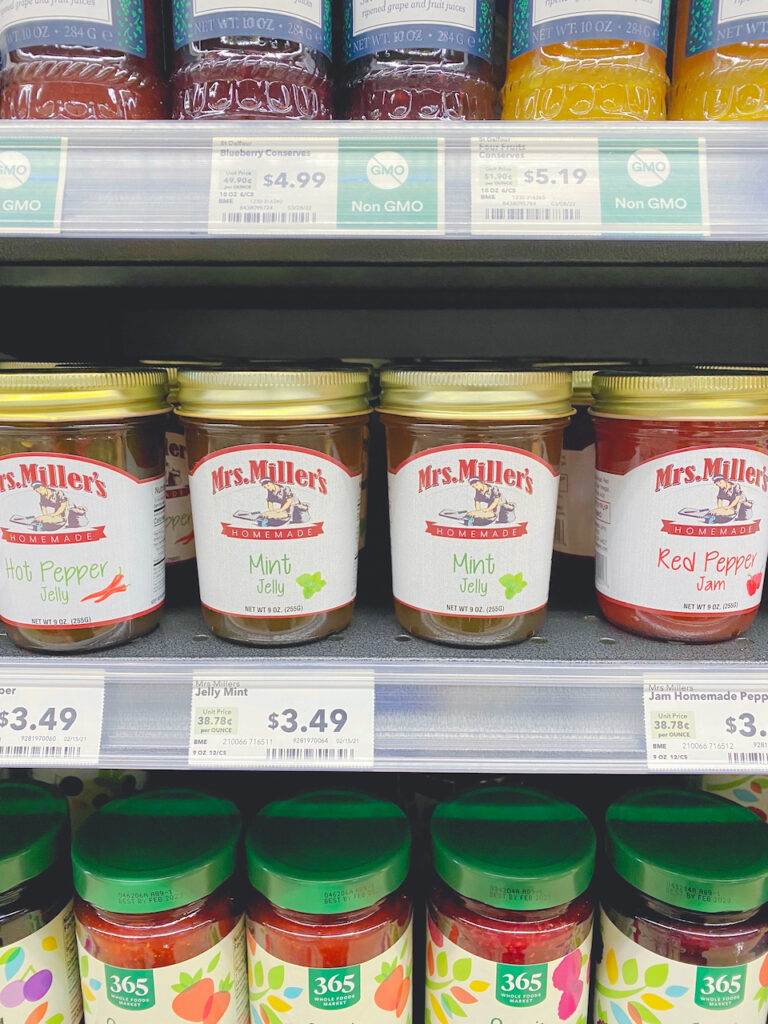 Martha Stewart's homemade Mint Jelly recipe