Appetizers With Homemade Cream Cheese
This recipe for homemade cream cheese is a variation of Carolyn Ketchum's recipe on her website alldayidreamaboutfood.com. Using two sieves to speed up the draining time was brilliant. Carolyn has an exceptional collection of low carb keto dessert recipes loaded with great tips for success.
Cream cheese with sweet green pepper jelly on crackers was one of my mom's favorite appetizers. I remember her making a lot of green pepper jelly to give to people as gifts. Unfortunately, I couldn't find her recipe. It had a little heat, like Braswell's Green Pepper Jelly, so her recipe had one or two jalapeños in it and she left it its natural color and didn't add drops of green food coloring. There are a lot of recipes for it on the internet both with heat and without. If pepper jelly is new to you, check out 22 Ways to Use Pepper Jelly besides traditional holiday pepper jelly, cream cheese and crackers.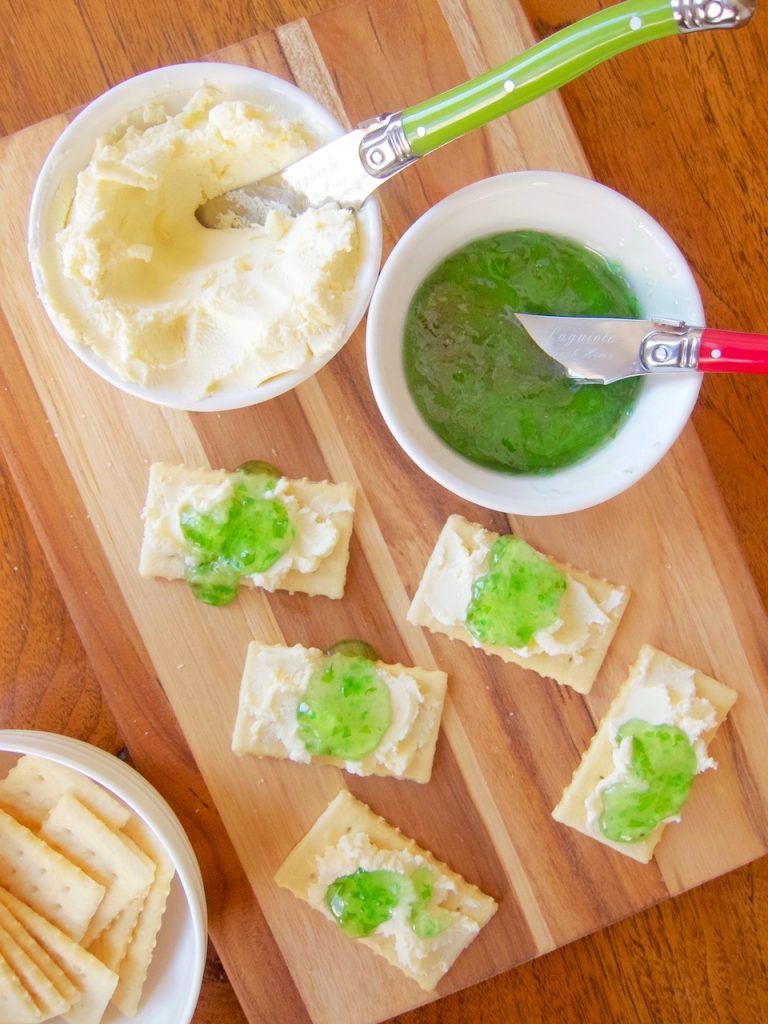 Homemade Cream Cheese
Ingredients
2 cups whole milk
2 cups half and half
4 cups heavy cream
1 teaspoon salt
3 tablespoons fresh lemon juice (1 large lemon is usually enough)
Instructions
Place two sieves over two bowl and line with cheesecloth or two thin cotton tea towels (for drying bar glasses and other delicate things).
Pour the milk, half and half and cream into a heavy saucepan and heat until it rises up (scalds). Turn the heat down. Stir in the salt and lemon juice. The mixture will curdle right away. Let simmer 3 minutes and remove from heat.
Pour half of the curd mixture into each of the sieves. Pour the whey water in the bowls into another container.
Let the curd mixture continue draining for 4 hours at room temperature. The curds will be stuck together at this point and you can transfer everything to a container with a tight lid and refrigerate.
It will keep for a week.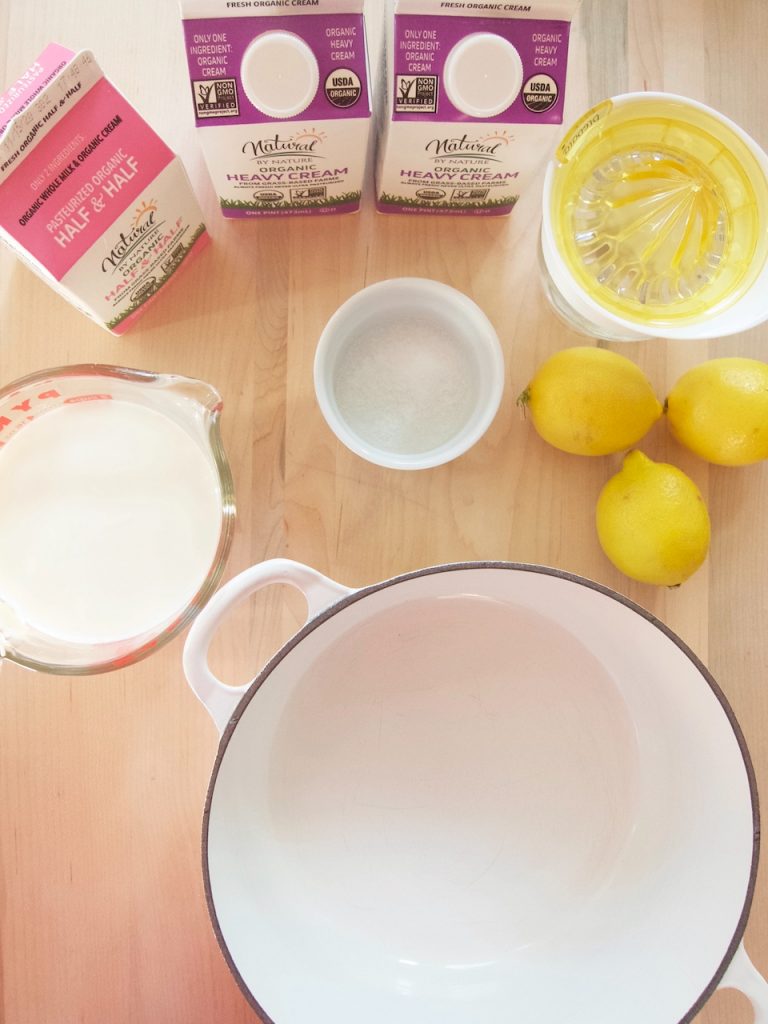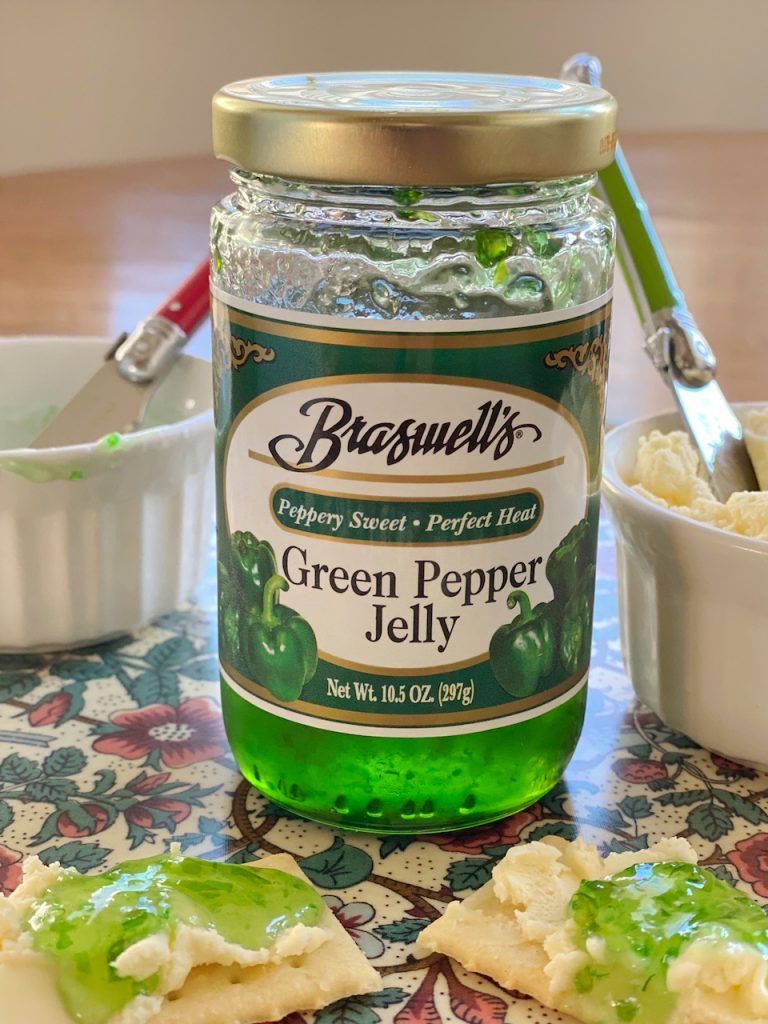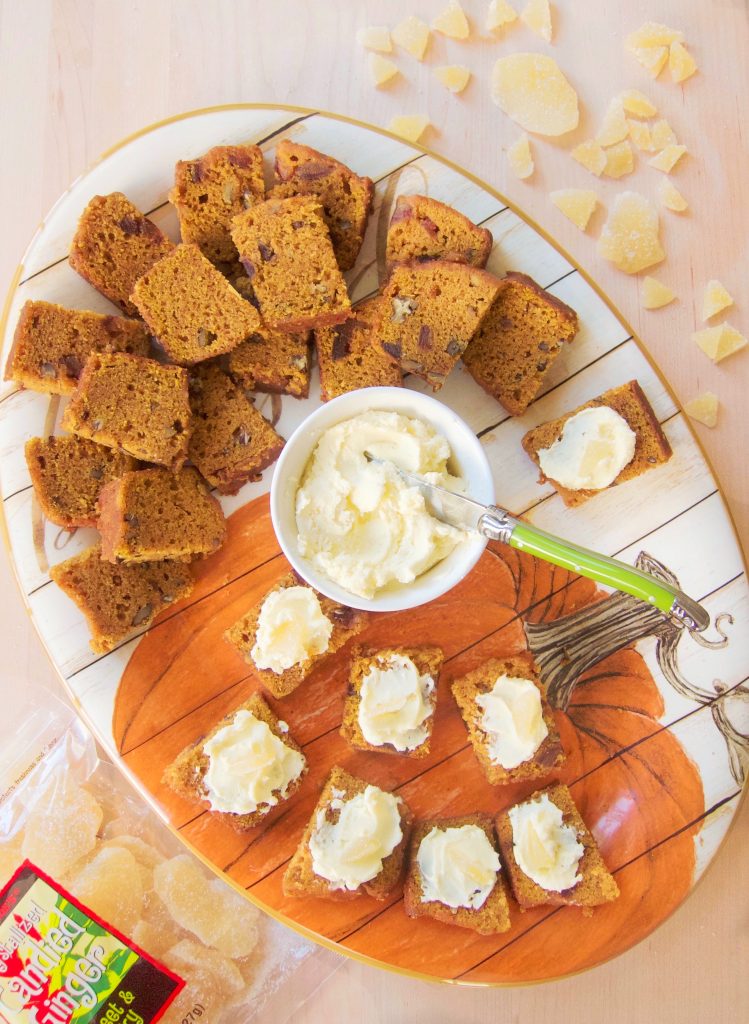 Cream cheese is great on pumpkin bread with a little piece of Trader Joes' candied ginger. They have two kinds of ginger, uncrystallized nuggets and crystalized candies slices. You want the softer crystalized slices for this. Cream cheese is also great on zucchini bread, banana bread, persimmon bread and cranberry bread.
'Short' Pumpkin Bread
This is a recipe for pumpkin bread that would normally go in an 8″ by 4″ pan. But if you use a 9″ by 5″ it will be short making it easy to slice and cut for finger foods.
Ingredients
1 cup flour (spooned into measuring cup and level off with a knife)
1/2 teaspoons baking soda
1/4 teaspoons baking powder
1/4 teaspoon salt
1 teaspoon cinnamon
1/2 teaspoon nutmeg
1/8 teaspoons cloves
1/8 teaspoons ginger
6 tablespoons butter, melted and completely cool
1 cup sugar
1 large egg
7.5 ounces (1/2 can) of solid-packed, not watery, pumpkin like Wegman's and Libby's 100% Pure Pumpkin
1/3 cup chopped pecans
1/3 cup cut up dates
Instructions
Butter a 9″ by 5″ loaf pan and cut a piece of parchment or waxed paper to fit the bottom and butter the paper.
Mix the first 8 ingredients together. Put the melted butter and the sugar in a mixer bowl and beat for 2 minute. Scrape down the sides with a rubber spatula. Add the egg and beat another 2 minutes. Add the pumpkin and beat 1 minute. Scrape down the sides again. The mixture will look curdled. This will go away when you add the flour. Add the flour mixture and turn the mixer on low and mix just until blended. Stir in the dates and nuts. Pour into the prepared pan and bake in a 325 degree oven for about 50 minutes or until it springs back. If you do it in an 8″ by 4″ pan, it will need another 10 minutes in the oven.